How do you know you need to revise your email marketing strategy? Simple – just review your email marketing goals for 2023. Which ones did you achieve? And which ones did you miss, as you crossed the half-year line in June?
What inevitably follows is an audit: Did we start with the correct email marketing strategy? Which of our initial assumptions were inaccurate? What went wrong with the email copy? How come the list wasn't as engaged as expected? Are there any email marketing KPIs that we didn't fully pay attention to?
All this finally culminates into a revised strategy and a clear game plan for its execution. You want to optimize what you're already doing if you are keen to close the year by achieving your email campaign 2023 goals.
Email marketing goals 2023
We recently conducted a small survey of email marketers and founders. In the survey of hits and misses we asked them how they thought their email campaigns had fared in the first half of 2023.
We asked them to name one goal they had achieved (though a few marketers did mention more than one), and one goal they had missed (again, a few marketers did mention more than one).
Among other things, we asked them how they'd be revising their email marketing strategy. Because going forward, they are most likely to achieve their goals when 2023 ends only if they do some course-correction.
Here are some of the key findings:
Almost 40% of the respondents said they had achieved their goals to improve email open rates and conversion rates.
Half the respondents said they had fallen short of achieving their email engagement goals.
Close to 14% of the respondents said they hadn't been able to achieve their goal of improving sales conversion.
One of four respondents had achieved their goal of growing or maintaining their email list.
Almost one in twenty respondents said they had found success in product launch purely through email campaigns.
Revising email marketing strategy for the second half of 2023
A revision of your email marketing strategy mid-year isn't unusual. Some external parameters suddenly change. You didn't foresee a few events. You discover better opportunities. There are a whole set of reasons why you need to tweak your strategy after you review the half-yearly results.
The marketers and founders we spoke to had some interesting takes on what kind of course corrections they intended to do.
Among them, three changes were reported most often:
A little above 30% of the respondents said they were planning to improve their email strategy by focusing on their workflow.
Improving email personalization was the priority for 16.67% of the marketers.
An identical percentage (16.67%) of respondents said they intended to segment and clean email lists better.
We received a big number of responses. After a careful study, we decided to feature 10 of these responses. We believe they best represent the hits and misses of email marketing goals for 2023.
Here you go:
1. 'Email open rates vs conversion rates'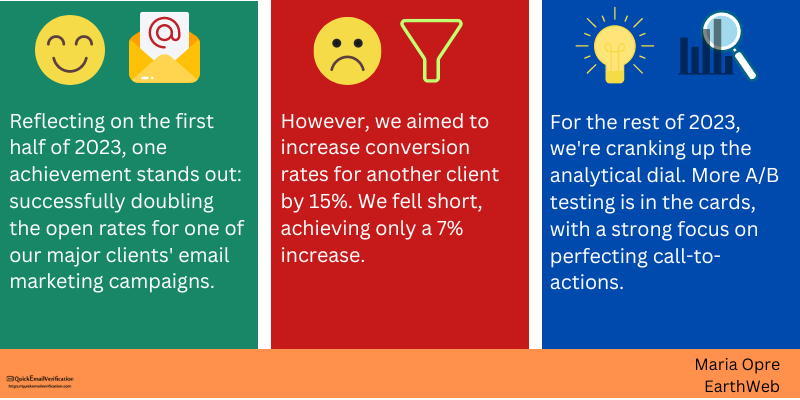 Doubled our email open rates
"Of all our email campaign goals, one achievement stands out in 2023: successfully doubling the open rates for one of our major clients' email marketing campaigns." says Maria Opre of EarthWeb.
"The secret? Segmenting the audience based on behavioral data. Remember, the more personal the email, the better the open rate! So, that was a gratifying win."
…but fell short of conversion rate goals
"We aimed to increase conversion rates for another client by 15%. We fell short, achieving only a 7% increase. Despite the disappointing outcome, I believe in the power of failures as they become stepping stones toward success."
"The bottleneck here was insufficient A/B testing. We now recognize that as pivotal." Opre elaborates.
Here's what we're changing
Opre continues, "For the rest of 2023, we're cranking up the analytical dial. More A/B testing is in the cards, with a strong focus on perfecting call-to-actions."
"The game plan? Observe, modify, and repeat until we strike gold and improve email ROI. In this fast-paced, digital world, it's all about agility and learning from both our triumphs and missteps. So, here's to the next six months of innovation, growth, and smashing those email marketing goals. Onwards and upwards, my fellow digital warriors!"
2. 'Email list hygiene is important'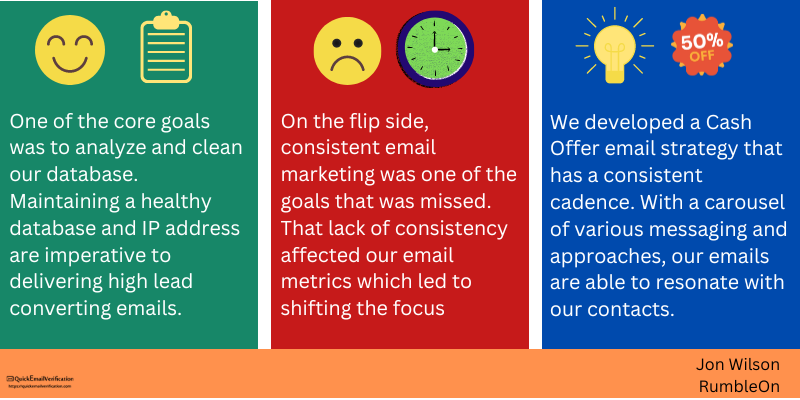 The goals we achieved:
"For our list of email marketing hits and misses, this is right at the top: analyze and clean our database. Maintaining a healthy email database and IP address are imperative to delivering high lead converting emails. By doing so, we were able to see an incerase in email engagement to our Cash Offer emails. That gave consumers the ability to sell their powersports quickly without hassle." Jon Wilson from RumbleOn told us.
What we missed:
"On the flip side, in 2023, email marketing consistency was one of the goals that was missed. We initially sought out to send one Cash Offer email per month. However, due to internal restructuring and an influx of marketing projects, that schedule became inconsistent."
"That lack of consistency showed on our email metrics. It also led to shifting the focus on establishing cohesive email marketing and brand presence." Wilson adds.
Here's what we are changing:
"After reexamining our email campaign goals, we developed a Cash Offer email strategy. It has defined a consistent cadence as well as themed messaging. By creating a carousel of various messaging and approaches, our Cash Offer emails are able to resonate with our database. And that begins the selling process." concludes Wilson.
3. Unique email campaign goals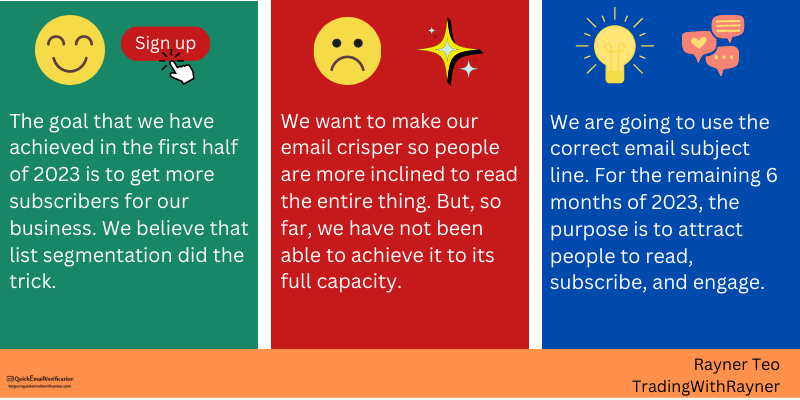 List segmentation did the trick
Rayner Teo of TradingWithRayner says segmentation was key. "The goal that we have achieved in the first half of 2023 is to get more subscribers for our business. We believe that list segmentation did the trick. You cannot just send emails to everyone and expect to see results. You want to target an audience that is actually interested."
… and now we want this
This might be quite interesting when you look at most hits and misses. Email marketing seeks to communicate with their audience. So many novice marketers would like their emails to be long, with lots of content. But Teo has a different take.
"We want to make our email crisper so people are more inclined to read the entire thing. But, so far, we have not been able to achieve it to its full capacity. I believe we couldn't achieve it because we have been focusing more on the marketing process and not on the content as such." confesses Teo.
How our email marketing strategy will change
"We are going to use the correct email subject line. For the remaining 6 months of 2023, the purpose is to attract people to read, subscribe, and engage. This can be done by creating a hook at the beginning of the email. And we'll keep the entire message short, sweet, and engaging." says Teo.
4. 'Will double down on acquisition channels'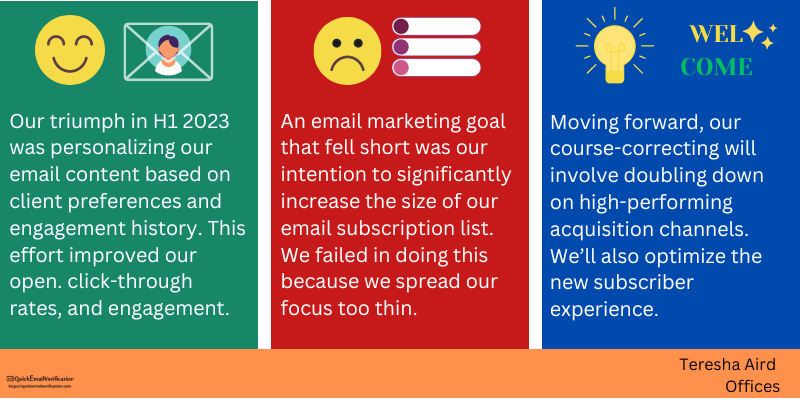 Personalization based on preferences and history
"Our triumph in H1 2023", says Teresha Aird, Co-founder & CMO of Offices, "was personalizing our email content based on client preferences and engagement history. This effort improved our open and click-through rates, as well as client interactions thereafter."
"The major reason for its success was meticulous data analysis to understand what resonates. That allowed us to tailor content and present more valuable, personalized insights."
…But the list didn't grow
Aird isn't impressed with their email list. "An email marketing goal that we fell short on was to significantly increase the size of our email subscription list."
"We failed in doing this because we spread our focus too thin across multiple acquisition channels. In hindsight, we needed to concentrate our limited resources more on the avenues that were already performing well."
Here's what we are changing:
"Moving forward, our course-correcting will involve doubling down on high-performing acquisition channels." says Aird, explaining further "We'll also optimize the new email subscriber experience with a warm, inviting, onboarding series."
"We'll monitor engagement levels more closely and make data-driven adjustments. This should enable us to not only grow our list but ensure that it's filled with highly-engaged and interested recipients."
5. 'Engagement through personalized subject lines'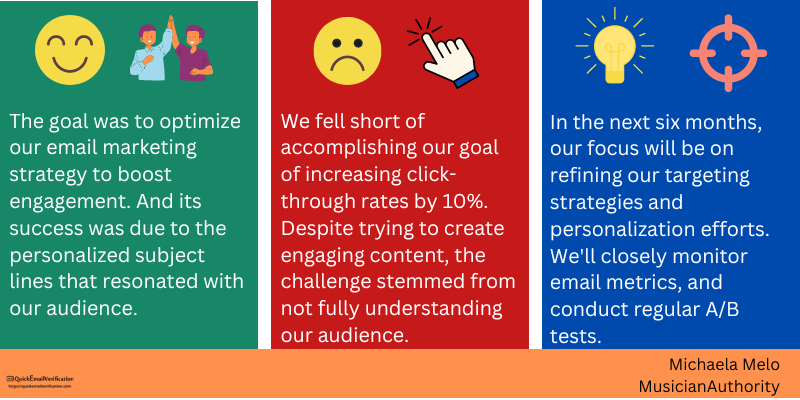 Boosting engagement worked
"The goal was to optimize our email marketing strategy to boost engagement, and the major reason for its success was implementing personalized subject lines." Michaela Melo of MusicianAuthority told us "We tailored subject lines to resonate with our audience's interests and needs. That's how we managed to grab their attention and entice them to open our emails."
CTR's weren't that great
"On the flip side, we fell short of accomplishing my goal of increasing click-through rates by 10%." Melo looks back, "We put in lots of effort to create engaging content and incorporate strong call-to-actions. But we now see the challenge stemmed from not fully understanding our audience's preferences and interests."
"As a result, some of our emails may not have effectively resonated with our subscribers, leading to lower click-through rates."
Here's what we are changing:
Melo is clear about the next six months. "Looking ahead to the next six months, our focus will be on refining our targeting strategies and email personalization efforts. We'll closely monitor email metrics, conduct regular A/B tests, and segment our audience based on their behavior and preferences."
6. 'Subscriber retention was a key goal for our email marketing strategy'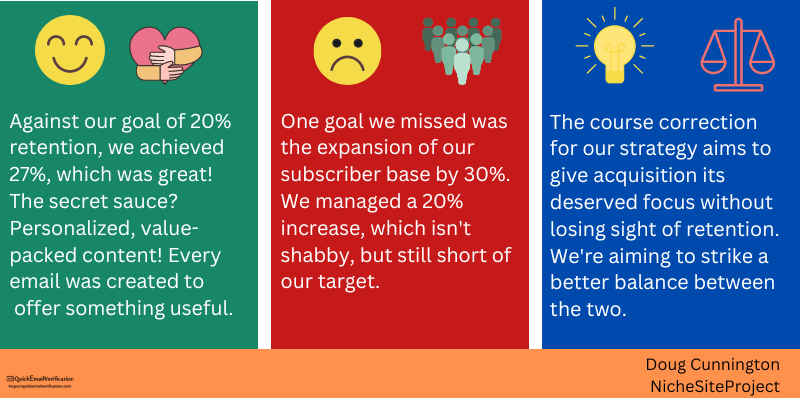 'Surpassed our email subscribers target'
"In 2023, our aim was to increase our subscriber retention by 20%. I'm glad to share that we overshot this target by a decent 7%, reaching a 27% improvement instead." Doug Cunnington, founder of NicheSiteProject, shares their story.
What's the secret sauce, we ask. "Personalized, value-packed content!" confides Cunnington. "Every email we sent was designed to offer something useful. Whether it was knowledge nuggets from my podcasts or actionable tips from my YouTube channel – it added value. It made our subscribers feel valued, and they stuck around."
'Couldn't expand our base'
Cunnington is candid. "But it wasn't all rainbows and unicorns, and we did face some challenges. One email campaign goal we missed was the expansion of our subscriber base by 30%. We managed a 20% increase, which isn't shabby, but still short of our target."
"Looking back, we might have been too focused on retention and less on acquisition. Hindsight's always 20/20, isn't it?"
Here's what we are changing:
"For the second half of 2023, our email strategy involves a slight course correction. That'll give acquisition its deserved focus without losing sight of retention. We're aiming to strike a better balance between the two"
"And we intend to use our existing user behavior data to tailor more effective lead nurturing and lead-generation strategies." sums up Cunnington.
7. 'Might reduce subscribers…'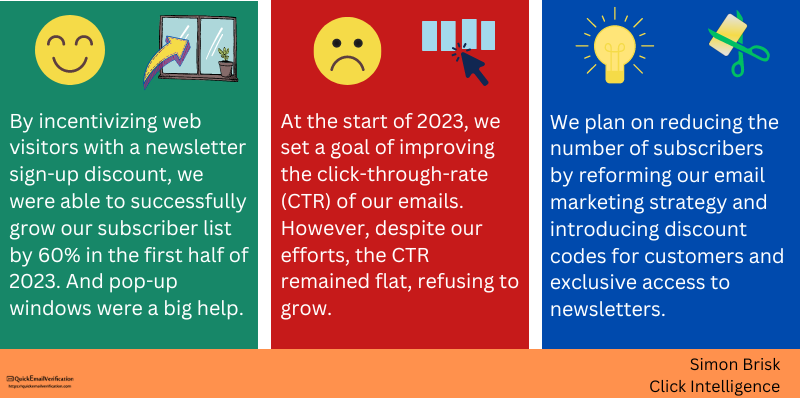 Sign up discount
"In the first half of 2023, we were able to successfully grow our subscriber list by 60%… With the help of pop-up windows on websites, we have been able to gain new subscribers in a short span of time." ClickIntelligence Co-founder Simon Brisk told us.
"We incentivized web visitors with a newsletter sign-up discount. As a result, we received an influx of email addresses. This proved to be extremely helpful in our email marketing efforts."
No improvement in CTR
"At the start of 2023, email marketing goal that we had in mind was clear: improve the click-through-rate (CTR) of our emails. However, despite our efforts, this proved to be a failure." Brisk says.
"There was no decline in the CTR, but there was no improvement either. The explanation for this could be that our content has not been persuasive enough for readers. This serves as a learning experience for our team so that we can improve the quality of our content."
Here's what we are changing:
"We plan on making use of generative AI tools to help with our email content.. For example, the email subject line: We plan on improving the CTR as a result of this course-correction."
"In addition to this, we plan on reducing the number of subscribers. We'll reform our email marketing strategy and introduce discount codes for customers and exclusive access to newsletters." Brisk concludes.
8. 'Email marketing strategy: make the email journey enjoyable'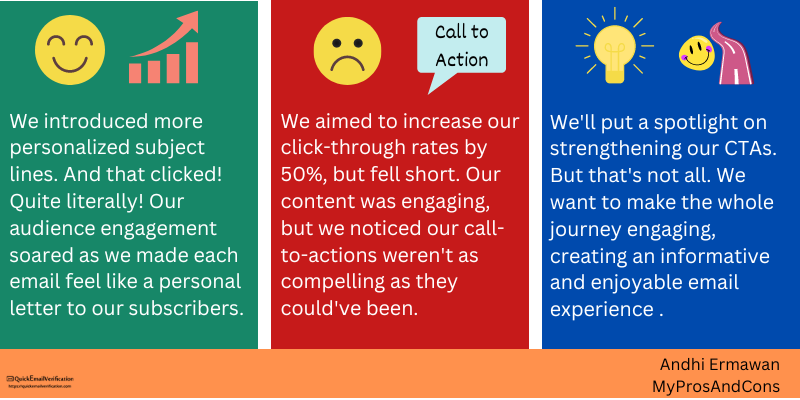 Open rates doubled
The founder of MyProsAndCons, Andhi Ermawan, talks about their email marketing 2023 goals. "In the first half of 2023, we ticked off one of our key goals – doubling the open rate for our newsletter."
"We introduced more personalized subject lines. And that clicked! Quite literally! Our audience engagement soared as we made each email feel like a personal letter to our subscribers."
'Perhaps we were a bit overzealous'
"But, of course, it wasn't all smooth sailing. Our email campaign goals aimed to increase our click-through rates by 50%, but fell short. Perhaps we got a bit overzealous there."
"Our content was engaging, but we noticed our call-to-actions weren't as compelling as they could've been. Because sometimes you need a stumble to truly see where the roadblocks are, right?" ponders Ermawan.
'Here's what we are changing'
"We're tuning up our our 2023 email strategy goals for the next six months, putting a spotlight on strengthening our call-to-actions." says Ermawan, explaining the rationale behind the goal. "We're not just focusing on the end goal. We want to make the whole journey engaging, creating an email experience that's equally informative and entertaining."
9. 'Lack of nurturing sequence hurt our goals'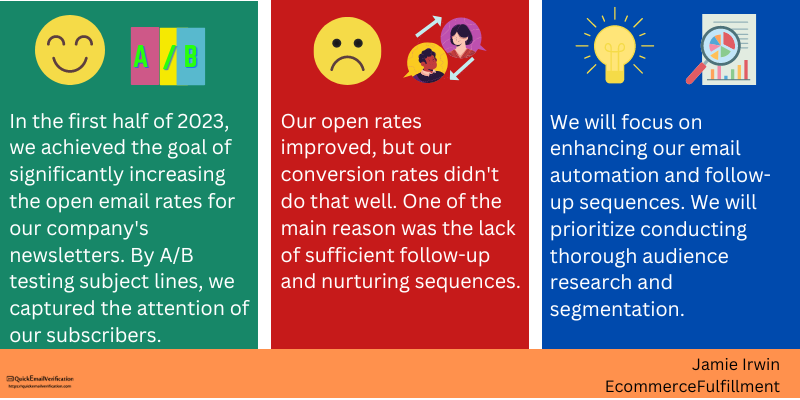 'Here are our hits'
Jamie Irwin of James and James Fulfilment told us "In the first half of 2023, we achieved the goal of significantly increasing the email open rates for our company's newsletters. We A/B tested different email subject lines and engaging visuals. Then, we segmented our audience based on their preferences. That's how we captured the attention of our subscribers and achieved higher open rates."
'…but we missed conversion goals'
"We should have achieved one goal in the first half of 2023: increasing the overall email conversion rates.." Irwin elaborates "While our open rates improved, the conversion rates did not meet our expectations."
"As we look back upon our email marketing strategy, one thing emerges. There was a lack of sufficient follow-up and nurturing sequences. That's because without targeted and personalized content for specific segments of our audience, our conversion suffered."
Here's what we are changing:
Irwin summarizes the lessons they've derived from the email marketing hits and misses during the first half of 2023. "We will focus on enhancing our email automation and follow-up sequences. Next, we'll set up targeted workflows and personalized drip campaigns. Because of that, we'll nurture leads better and guide them toward conversion."
"We'll leverage advanced personalization techniques. Next, we'll also incorporate interactive elements. And finally, we'll optimize our landing pages. That's how we will maximize the effectiveness of our email campaigns."
10. 'Building brand awareness helped'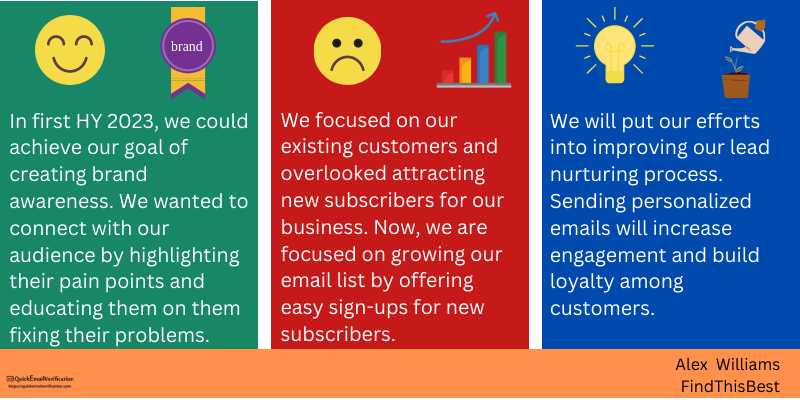 Prioritizing brand building through email
"In the first half of this year, we were able to achieve our goal of creating brand awareness." says Alex Williams, CFO, FindThisBest. "We wanted to connect with our audience. Highlighting their pain points and educating them on how our products can help them fix their problems – these were key!"
"We achieved good open and click-through rates through the call-to-action links in the email. That was one of our goals in 2023."
'Overlooked attracting new subscribers'
"We were unable to achieve the number of email addresses needed to grow our list. Considering email marketing is one of the most valuable resources, we wanted to reach our maximum target audience." says Williams, looking back.
"We remained focused on our existing customers and overlooked attracting new subscribers for our business. Now, we are focused on growing our email list by offering easy sign-ups for new people."
This is what we're changing:
But Williams is upbeat about the coming days."We have generated enough brand awareness among our target audience. Next, we will put our efforts into improving our lead nurturing process. Sending personalized to increase emails engagement and building loyalty among customers ."

"When they engage with our offerings, they will likely make a purchase decision. Also, improving this process will help our company with better targeting and segmentation. As a result, we will be able to close 2023 with most of our goals achieved."
Over to your strategy
A dynamic strategy is critical to success. If you can tweak your approach as the external parameters or results change, you'll always be more likely to win.
How are you upgrading your email marketing strategy? We'd love to learn what you are changing! Don't forget to comment below!