In the last week of June 2023, we invited marketers and founders to tell us about the email marketing goals they had achieved and missed. We asked them three questions and a total of 73 people responded – nearly everyone answered all three.
The objective was to study how they had fared with their email marketing 2023 goals and what were the email marketing hits and misses of the first half of the year. So our questions were:
Tell us about at least one email marketing goal you achieved successfully in 2023. Why do you think that happened?
Tell us about at least one email marketing goal you failed to achieve in 2023. Why do you think that happened?
What is the course-correction you're doing for the next 6 months so that you'll achieve your email marketing goals for the year 2023?
The pattern of the responses
While we had kept the question open-ended (i.e. we did not suggest any options), there was a great deal of uniformity in responses. This clearly suggests that there is a general agreement on what KPIs to track.
Notice that we had asked people about at least one email goal achieved or missed.
In the case of goals achieved, nearly half of the respondents talked about two goals while the rest talked about only one goal (Which means no one talked about three goals or more).
The converse happened when we asked about the goals missed. Only two respondents talked about exactly two goals; the rest talked about exactly one goal. Again, no one talked about three goals or more.
Ok, now here's what we learned about email campaign 2023 goals (for the first half of the year, of course).
Email campaign 2023 goals achieved
Here's a short analysis of the goals the marketers reported having achieved:
About 2 out of 5 people achieved their campaign goals for open rates and conversion rates
From the respondents, 38.89% said they had been able to achieve their goals of better open rates and better conversion rates. That was the biggest number for goals achieved.
It's important to note that except one person, everyone who achieved the goal of better open rates also achieved the goal of better conversion rates, so we've clubbed the two into one. While further study is definitely required, there appears to be a direct correlation between open rates and conversion rates.
What does that mean for email marketers?
Obviously the successful email marketers must have been pretty good with their email subject line. That's because email subject lines are the key drivers for open rates.
If anything, the direct correlation between higher open rates and conversion rates suggests that when you get better open rates, you can expect better email conversion rates.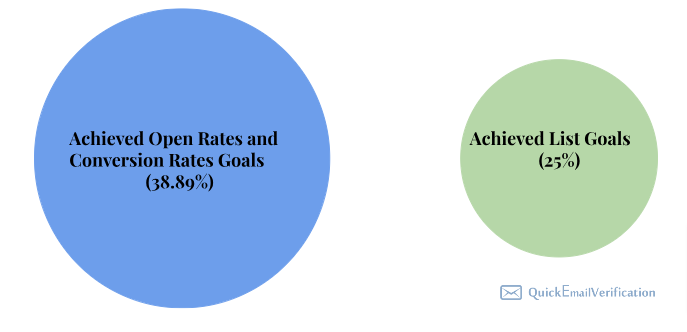 One-fourth achieved their list goals
Exactly 25% of the respondents said they had achieved their list goals. They were either trying to increase their email list or protect their existing list.
If one of your top 2023 email campaign goals is to grow or sustain your list, you'll need to put in some serious efforts.
What does that mean for email marketers?
HubSpot estimates that the email database decays at over 21% every year. If you don't clean your email list and focus only on growing it, your sender reputation – and therefore your campaign – could soon be at risk.
Secondly, when you intend to grow your list (which is always one of the major goals for a marketer), you want to pay attention to your source. Your email acquisition channels should be in sync with your ideal customer profile. Otherwise, even if you manage to get some sign-ups, there will be lots of unsubscribes very soon.
What were the other email campaign goals achieved for H1 2023
Interestingly, 5.56% of the email marketers reported they were able to launch a new product in the first half of 2023, using emails.
That's rather impressive, because product launches are typically expensive. So when these marketers were able to launch their product from their office using their laptops, it's amazing, right?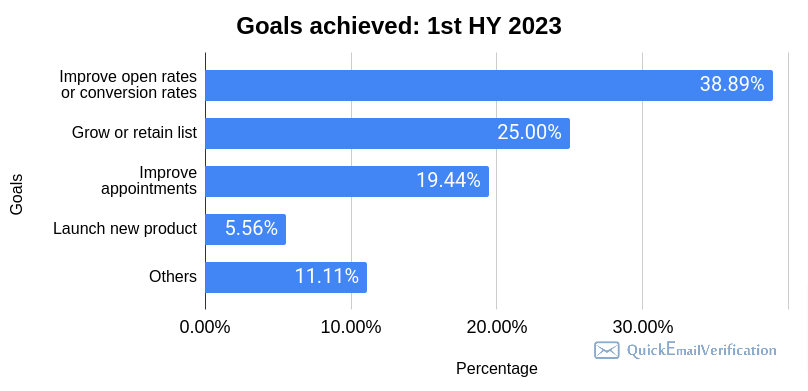 Email campaign 2023 goals missed
The goals of email marketing that marketers said they couldn't achieve in 2023 paint an interesting picture. Here's a short analysis of the goals they missed:
Half the respondents missed out their goals of open rates and engagement
Generally click-to-open rate would be a better measure of engagement. However, here we have clubbed engagement and open rates.
When we set out to learn more about the email marketing hits and misses for the half-year 2023, we somehow suspected open rate was going to be a struggle. That's because of the huge number of emails clamoring for your attention in your inbox.
What does missing open rate goals mean to email marketers?
One lesson is pretty obvious: marketers will need to work hard on their email subject lines.
But there's one more lesson here. If you want better engagement, one thing you can consider doing is moving inactive subscribers to a different list. Try engaging them. Delete the inactive subscribers that don't respond. Your numbers will shrink, but you will see that you're working with only those subscribers who are really interested in what you send them.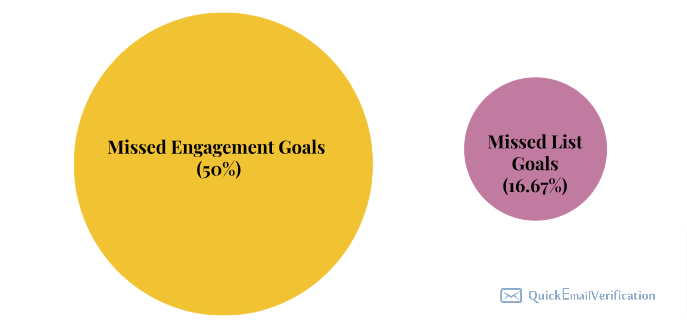 One out every six respondents have some challenge with their email lists
One-sixth, or 16.67%, respondents reported they've missed the goal of managing their list: either growing their list or reducing unsubscribes.
Rookie marketers, while studying email marketing analytics, often downplay the importance of unsubscribe rates. That's dangerous. When you ignore the unsubscribe rates, you're letting go the opportunity to learn why they're leaving you.
What does that mean for email marketers
List management, unsubscribe rates, spam complaints, email deliverability, email list quality, inactive subscribers, and compliance to regulations like the GDPR are issues connected at a broader level.
For instance, if your email list quality is poor, you will soon face email deliverability issues because more of your perfectly valid emails would be pushed to the spam or promotional folder. Or if you don't honor unsubscribe rates, there will be a rise in spam complaints, which could lead to both deliverability and compliance challenges.
There are three action points here:
Honor unsubscribe requests and remove them from your email lists. No compromise.
Separate out your unengaged subscribers. Send them a re-engagement email(probably with some offer or discount). After that, it's best to remove your inactive subscribers.
Always maintain a clean email list. Scrub your list once every quarter with a robust and accurate email verifier.
What were the other email campaign goals missed for H1 2023
On the third rank stands the failure to improve sales conversion. In the digital age today, where emails can be your virtual sales professional, it's important that you know how to use emails for better conversion.
Optimizing the email copy is another goal that 5.56% respondents said they had missed. We are not sure, but this might be an indication that a few organizations still don't attach the importance to email marketing it deserves. As a result, they cut corners at the wrong places: assigning email copywriting to less experienced teams, for example.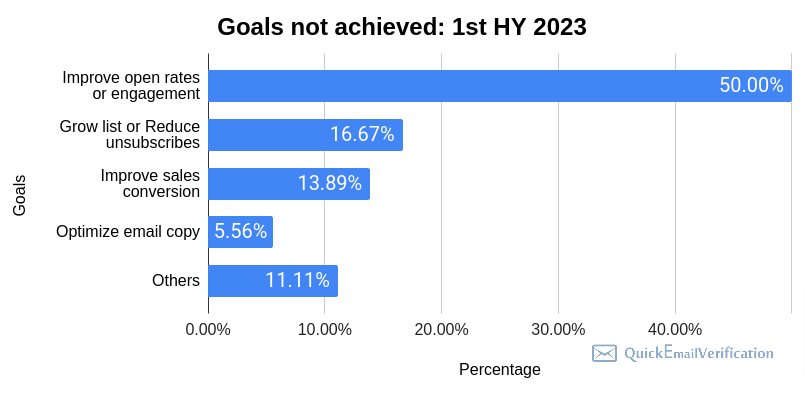 Email marketing strategies for 2023
Based on their email marketing hits and misses, the professionals we spoke to told us they have optimized their email marketing strategy for 2023. This was done with the objective to make sure they achieved their goals in H2 2023.
The single biggest change was directing their energies in improving the workflow. Nearly one-third (30.56%) of the marketers reported they were going to optimize their workflow and email marketing processes.
Two more focus areas seem to receive equal priority: list improvement and email personalization. One-sixth of the respondents (16.67%) said they will clean and segment their email lists. An equal number of respondents (16.67%) said they were going to use data and better personalize their emails.
Personalization is growing in importance – and the reasons are pretty obvious. Accenture reported that 91% of customers are more likely to shop with brands who recognize, remember, and provide relevant offers and recommendations.
Finally, a little over one-tenth of the professionals reported their priority for the second half of 2023 was improving the way they captured email addresses of their subscribers.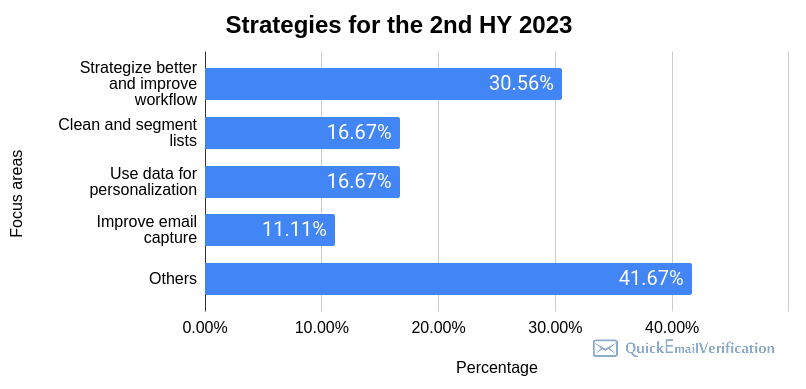 The summing up
While informal, this study of email marketing hits and misses turned up some very interesting insights. To begin with, it underlined the efforts email marketers are putting in. For every $1 spent on email, you can generate $36 in return – now you know why it makes so much sense to work on email marketing.
Just like all disciplines, email marketing has its own set of best practices. Following these practices is one of the best ways to achieve your email marketing goals. For instance, one of the key rules to follow is to not use purchased lists and use the list you've grown yourself, based on the consent of the recipients.
What are email marketing goals you achieved in 2023? And which ones did you miss? Don't forget to let us know in the comments section below!