Email marketing is one of the top channels to drive traffic, improve engagement and generate business. That's why marketing professionals are always keen to learn new methods of list building.
Email marketing provides an almost unbelievable ROI (3,400%)! No wonder you've pursued email marketing aggressively!
And yet, some of you likely saw returns that were far below your expectations.
Why is your email marketing not producing results?
There could be multiple reasons behind that, but one major culprit could be the quality of your email contacts or subscribers.
If your mailing list has email addresses that are spam traps, role-based or simply incorrect, your email deliverability will suffer. And that will pull down your email marketing ROI too.
So how can you improve your list hygiene?
Email verification is the answer.
What is email verification
Email verification, aka email validation, is the process of verifying the accuracy and quality of an email address. Email verification will separate out addresses that are unsafe to deliver.
The process of email verification begins by checking if the syntax of the email address is valid. Examples of invalid syntax are:
Someone[at]domain[dot][dot]com: Incorrect syntax because of the two dots.

Someone[at]domain[dot]: TLD is missing, e.g. -com or -org

Someone [at]domain[dot]com: Extra space between someone and [dot\

Someonedomain[dot]com: "@" sign is missing.

Someone[at]domaincom: "Dot" missing between domain and extension -com.
Next, the verification tool checks if the domain name is correct. Once that is found ok, advanced technical processes begin. They ascertain the validity of the email addresses.
After the verification process ends, the tool will display results. Each email address verified is classified under categories like Safe to Send, Accept-All, Disposable, Free Service, Role-based, Invalid and so on.
Based on the results, you can choose how you'd like to treat the email addresses: quarantine them, retire them or continue sending emails to these addresses.
The best part is email verification tools, also called email checkers, don't send out emails to verify if the address is correct.
Email verification benefits
Here is a short video on email verification benefits, based on the details in this post:
Prefer reading a shorter version? Here's our Slideshare presentation.
If you thought email verification helps you to only reduce email bounces, think again. Here are the various benefits of email verification, updated for 2022:
1. Ascertains accuracy of your data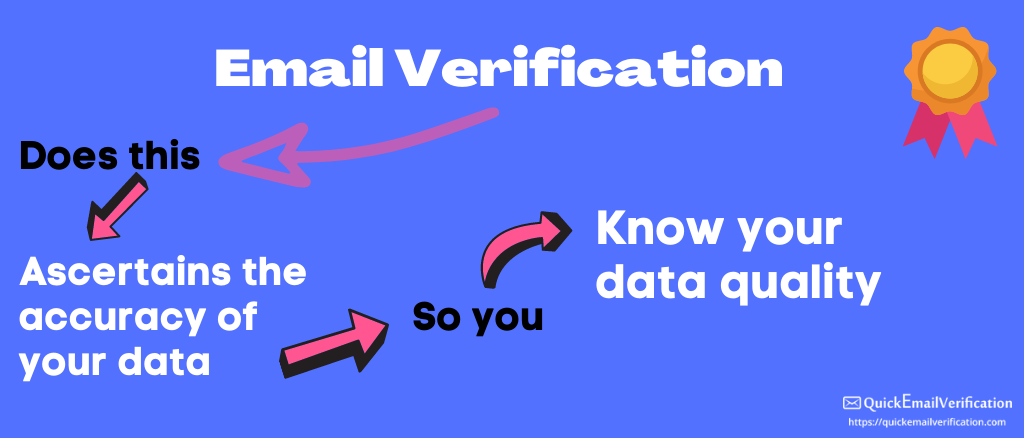 High-quality data is key to success in digital marketing. The results of validating a mailing list will tell you about the quality of your data. If the quality is high, you know you're on the right track.
If, on the other hand, you see a large number of undeliverable or incorrect addresses, you know there's a need to improve things.
2. Reduces email bounces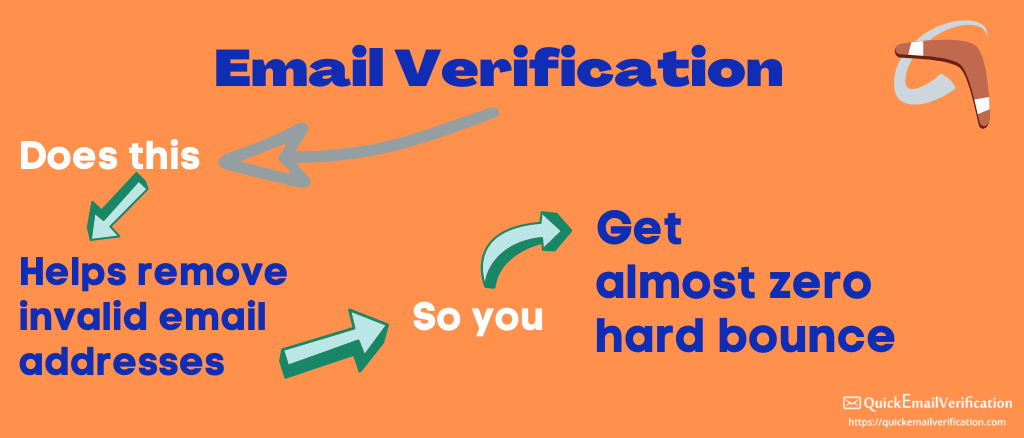 The results of email verification are detailed. They tell you which address is undeliverable, which one is role-based, which address is accept-all and so on. Armed with this information, you can choose to remove addresses that don't have any promise of being delivered safely.
As a result, you will see practically all your outgoing emails are getting delivered. The importance of email verification lies in the fact that with a cleaned list, you'll see little to no email bounces.
3. Saves money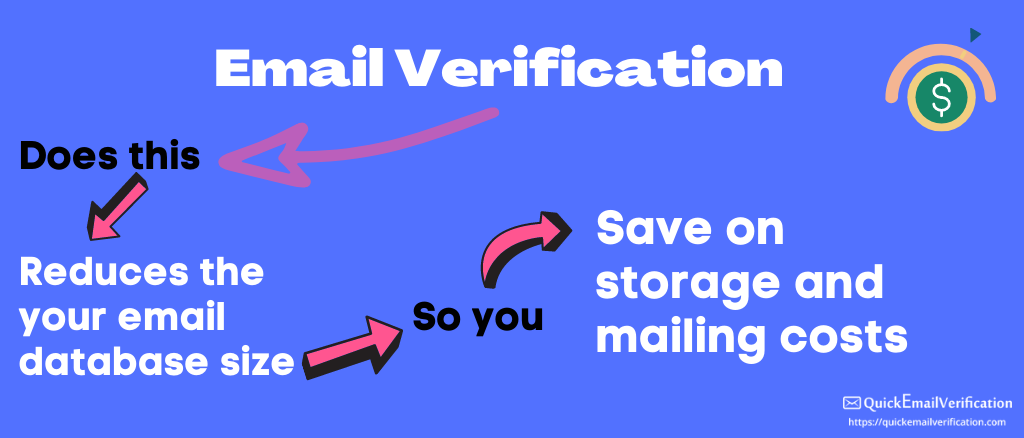 Storing your emails addresses and sending out emails both cost you money.
Email list cleaning tells you which all emails aren't safe to send. With that report, you can know which address to cull from the list. Your mailing list will shrink for sure, but that also means savings. To those who're wondering why email verification is important, the answer is that because you're sending emails to fewer people, the costs associated with storing and sending out emails go down.
4. Shows accurate campaign insights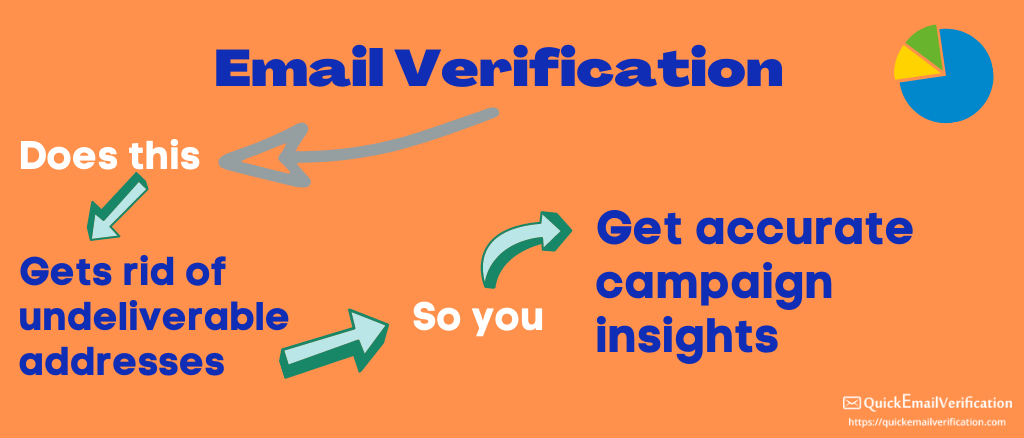 Once you clean your mailing list, you'll be left with addresses that are real and deliverable. All action taken by your recipients will be accurate and reliable for you to study.
Let's say you notice a certain email showed a poor CTR. You can be sure that there was something unappealing in the way the offer was made. One of key benefits of email verification is that because your email wasn't sent to unengaged subscribers (role-addresses, say), you know every single response is genuine.
5. Improves customer engagement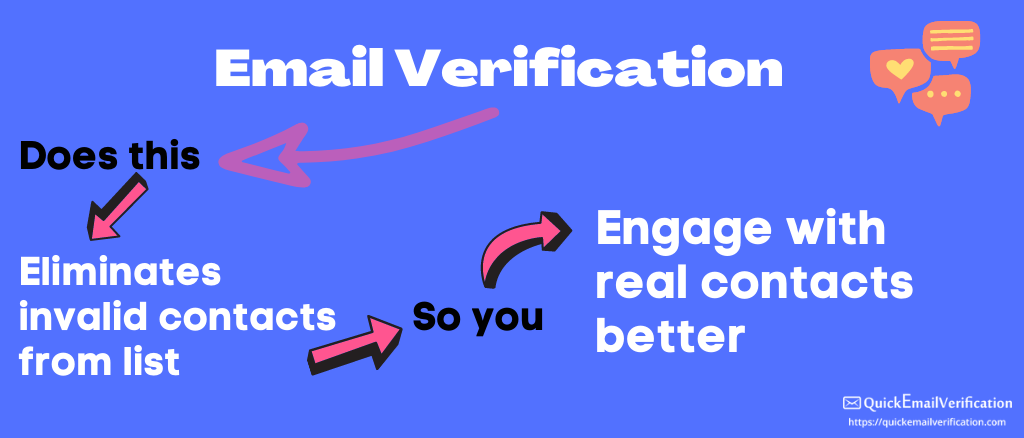 Because email verification removes incorrect or non-existent email addresses from your subscriber list, the remaining email addresses will be real ones.
As a result, their choices, their interests and their priorities will give you an accurate picture of what they want. So when you sit down to draft the next email, you know them better.
Consequently, your emails will contain stuff that they're really interested in, stuff they really care about. And that's one of the principal advantages of email verification: because you write stuff your subscribers can relate to, you can be sure you'll have a better engagement than ever before.
6. Increases campaign ROI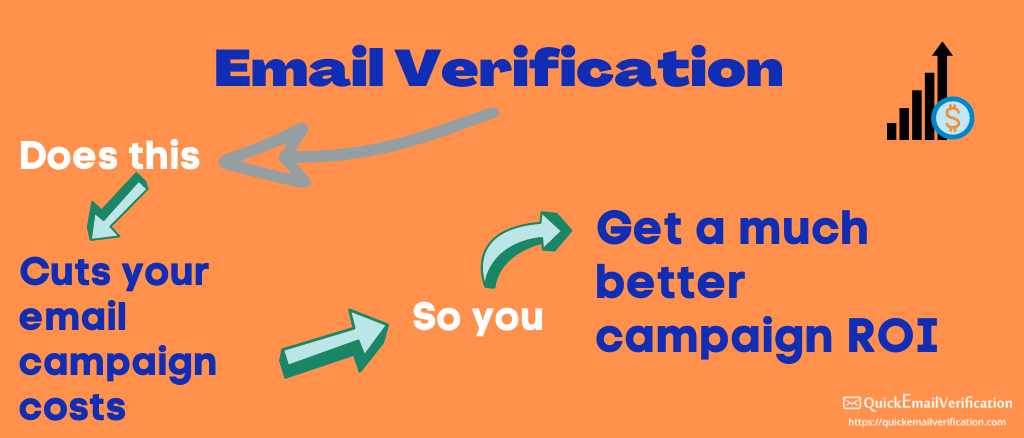 A cleaned verified email list automatically means you're sending out fewer emails than before. Not just that, the emails you're sending out are well-targeted.
Better targeted emails mean better opportunity to engage the recipient. Your recipients find your emails more relevant. As a result, they're more likely to purchase things.
One of the important email validation benefits is you're putting your resources to better, more efficient use. Your costs go down while your revenues likely rise. This gives you better returns on every dollar you're putting in, a better ROI.
7. Saves efforts in fixing bounces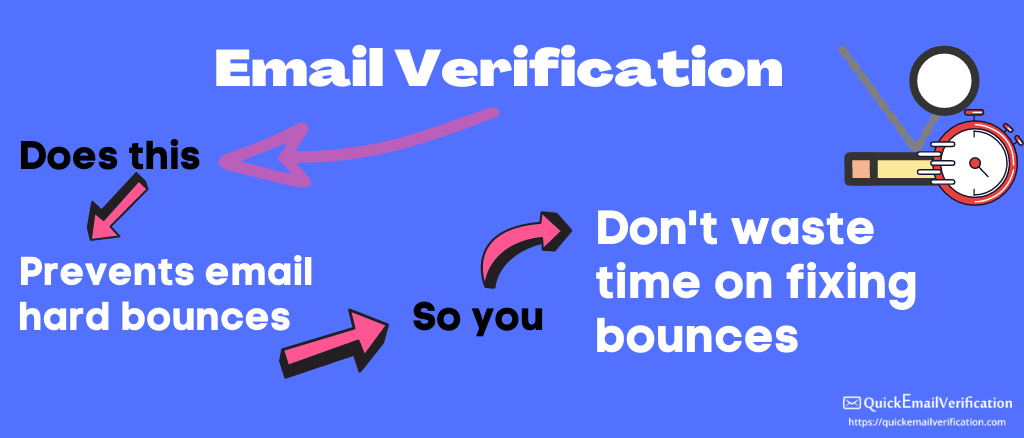 If you're using an email list that's not cleaned, this is what happens.
Just after you've sent out the campaign, the bounces start trickling in. If you're doing everything yourself, you'll need to set up a system that automatically unsubscribes hard bounces.
If you're working with an ESP, they will have their own mechanism where these email addresses will be moved to a suppression list.
Also, the ESP notes the number of bounces you received. If the numbers cross the limits set by the ESP, different things can happen. You might be asked to improve your list-building practices. You could be warned of stricter action in future.
Repeat offenders are typically banned by the ESP.
A verified list prevents all this trouble because it removes all undeliverable addresses in the first place. That way, you'll see practically no hard bounces. Email verification benefits like this one aren't always easy to spot but they matter a great deal in your overall marketing strategy.
8. Prevents deliverability issues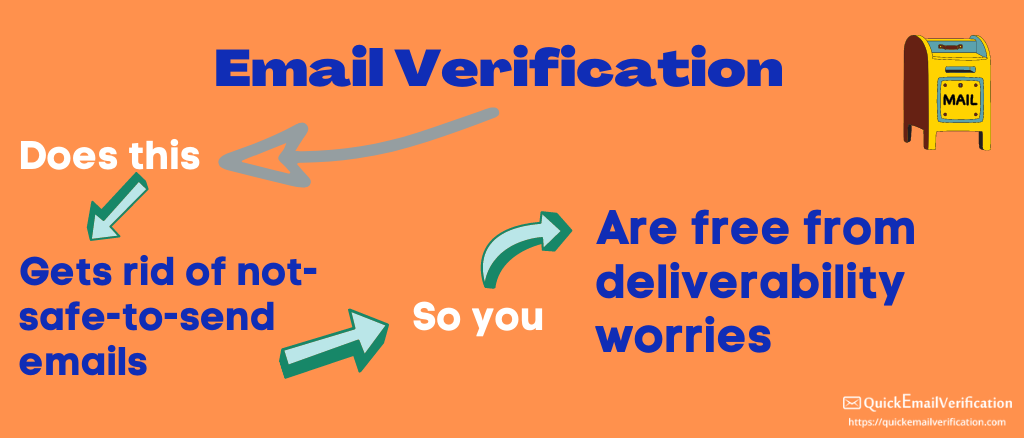 When you don't attend to deliverability issues repeatedly arising out of undeliverable emails, ISPs grow more and more confident you're a spammer. To make sure spammers like you don't abuse people's inboxes, the ISPs begin pushing an increasing number of emails into spam folders of recipients.
So this is what happens: some of your most engaged recipients will also not get your emails in their inbox. Actually your emails are being pushed into their spam folder, but who checks spam folders? And then you drop out of their radars. And it's curtains for your email marketing.
9. Protects Sender Reputation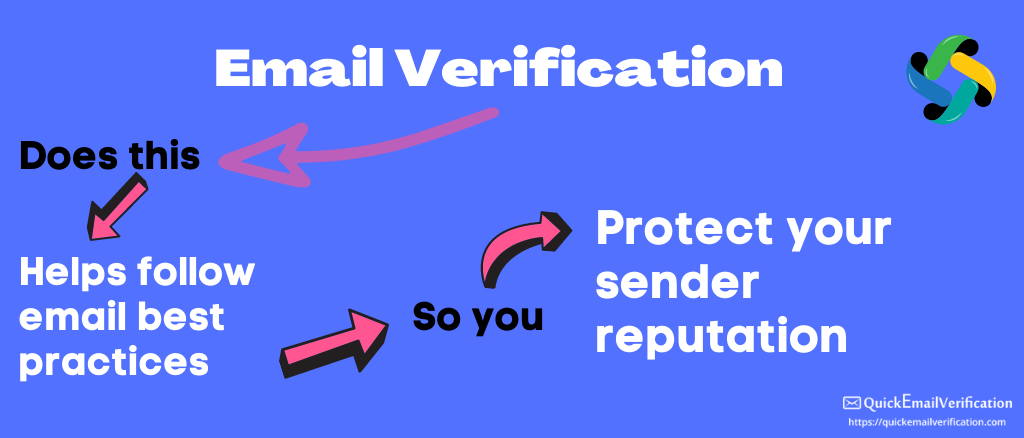 You've been sending out emails for some time and as a result you've created a kind of reputation among ISPs, ESPs and so on.
This reputation, commonly known as sender reputation, is built on many factors. This includes factors like how often recipients flag your email as spam or what proportion of your outgoing email bounces back.
Using a cleaned email list ensures you aren't sending out emails to any address that will reject your email, causing bounces. If you've ever wondered why verify email addresses, the answer is this: it helps protect your sender reputation.
10. Provides a reliable database to your sales teams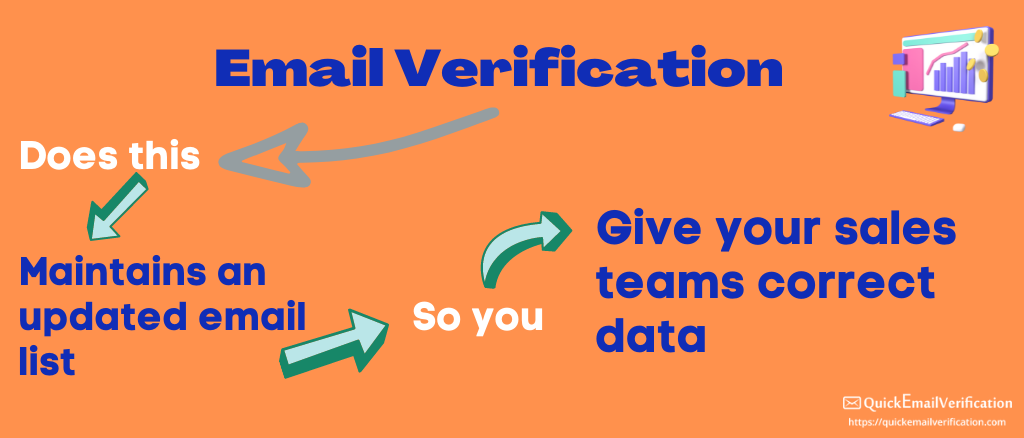 As your subscriber list grows and moves gradually from awareness level to interest in purchasing your products, your sales team can slowly step in.
But your mailing list is good for your sales team only when the emails are accurate. Without a verified list, your sales teams is just shooting in the dark, trying out various versions of emails and worrying why the metrics aren't coming out right.
All because you gave them a list that has a lot of incorrect and dead email addresses.
A verified list, on the other hand, doesn't waste the efforts of your sales teams. Whatever insights come up, they're accurate and genuine. That means your sales can work more effectively and more efficiently.
11.Saves you from punishments and fines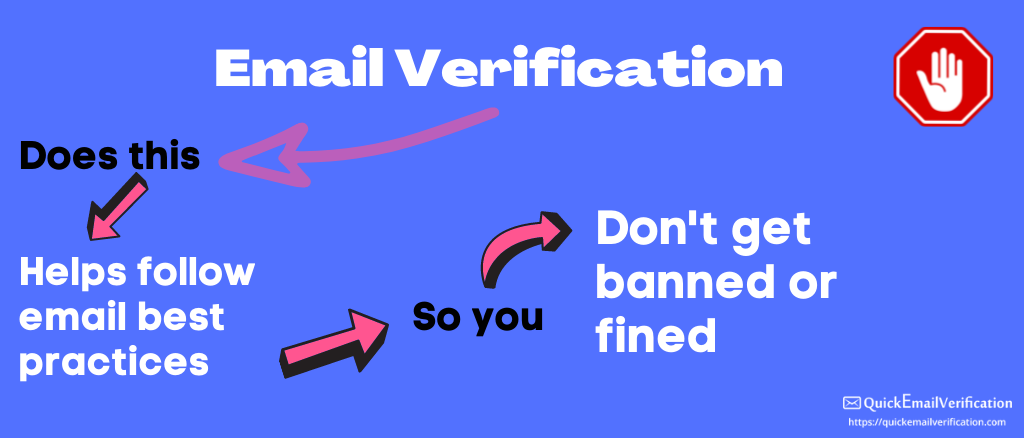 When you use the services of an ESP, you are their customer so they should be taking good care of you, right?
Sure. But they want you to act in a responsible and disciplined manner. That means they wouldn't like your campaigns returning a large number of bounces and complaints.
So what would they do?
Depending upon how big and how frequent your campaigns cause trouble, your ESP could begin by warning you. Next time this happens, they could flat refuse carrying your emails.
That's because your hard bounces are negatively affecting the deliverability of their other clients. As a matter of fact, if matters get worse, they could actually demand you pay for the damages.
One of the advantages of email verification is it will ensure you maintain list hygiene and keep hard bounces to near zero.
12. Helps you evaluate email collection methods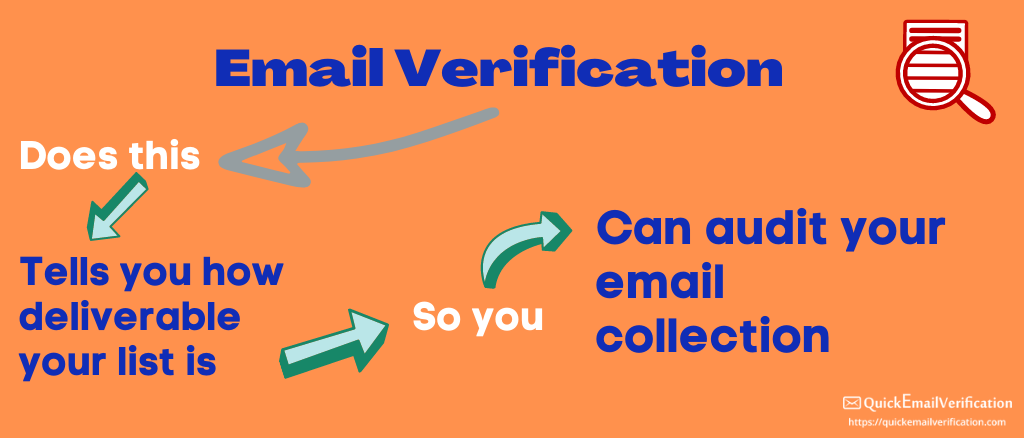 If you're like most other marketers, you receive signups from multiple sources. People may have signed up for a free e-book, a free email course, a free trial of your product… basically they could have joined your mailing list for diverse reasons during various occasions and events.
One of the best outcomes of email verification is that it tells you how reliable your email collection methods are. You might, for instance, find email addresses collected for a free webinar are high quality as compared to, say, signups for a newsletter.
This insight gives you a wonderful opportunity to improve and fine-tune your email collection methods.
13. Lowers spam complaints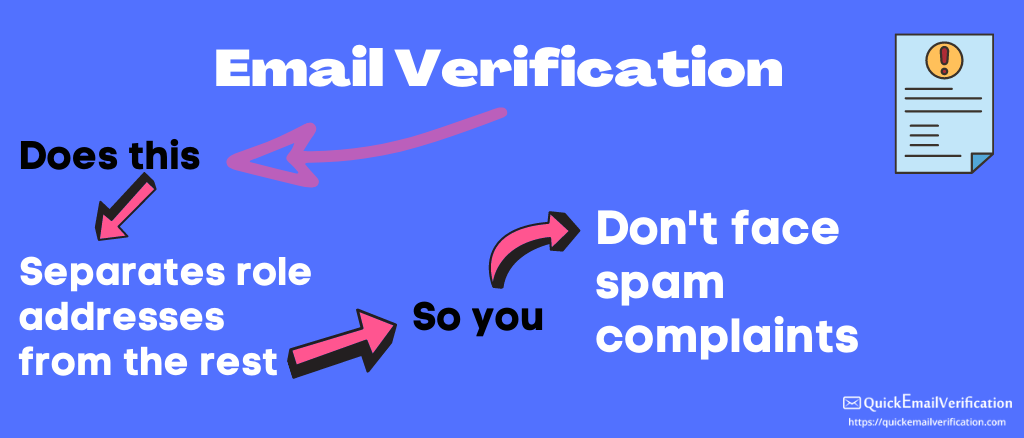 One of the benefits of email verification is that it reduces spam complaints. This could be particularly true for role-addresses (addresses like sales@, support@ etc). If you send out emails without email verification, some of your emails could reach role-addresses on your list.
You already know role-addresses are often shared by multiple people. You have no idea (nor any control on) who, out of all the people sharing the single address, subscribed to your mailing list. However, the rest of the people wouldn't know someone used the address to sign up for your e-newsletter. As a result, one of them is going to report you as a spammer.
An email tester tool separates out and removes role-addresses from your mailing list. Hence there's no email sent to role-addresses, and no spam complaints. You can find out more on how role-addresses on your subscriber list hurt.
14. Keeps your email list updated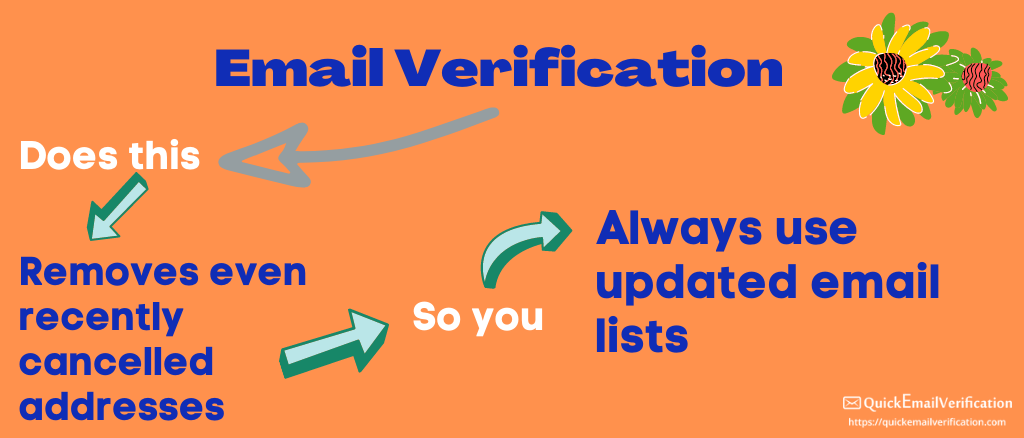 Annually, an estimated 22% to 30% of email addresses die and turn invalid.
Put differently, about 1 in every 3 email addresses on your subscription list will cease to exist every year. You can very well imagine the price of storing and emailing to addresses that are no longer valid. Email verification ensures your list is updated and all emails on your mailing list are safe and deliverable.
That gives you the confidence that all efforts of targeting these recipients are in the right direction and that you aren't wasting a single penny on addresses that expired months ago.
15. Safeguards against other legal issues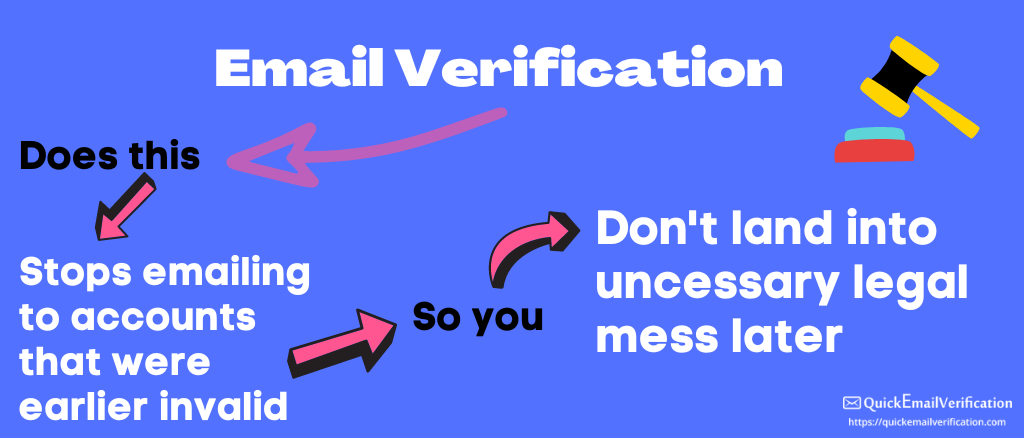 The following example (names changed) shows you GDPR and CCPA aren't the only legal challenges.
Ms Sarah Nice (email sarahn729[at]gmail[dot]com) made a purchase from the ecommerce store CarelessOnline Inc last week. By mistake, she keyed in a non-existent email sarahn927[at]gmail[dot]com as her address. CarelessOnline Inc began sending emails with Ms Nice's name, address, and purchase details to this email id. Naturally these emails bounced, but CarelessOnline Inc didn't notice.
Ms Janice Fraud created the address sarahb927[at]gmail[dot]com yesterday. Now Ms Fraud begins to receive emails that were meant to reach Ms Nice – all complete with name, address, purchase details and all that.
The less unfortunate thing that could happen is that Ms Fraud reports these emails as spam. That'd hurt CarelessOnline Inc's sender reputation. The bigger risk is that Ms Fraud will misuse this information in a way that hurts Ms Nice. And when Ms Nice notices the damages, she'll likely drag CarelessOnline Inc to court.
Had CarelessOnline Inc verified the email address immediately upon registration, things would have been different. They would have stopped sending further emails, protecting Ms Nice and stopping CarelessOnline Inc from getting into an avoidable legal mess.
Infographic on benefits of email verification
Here's an infographic our friends at Venngage designed for us.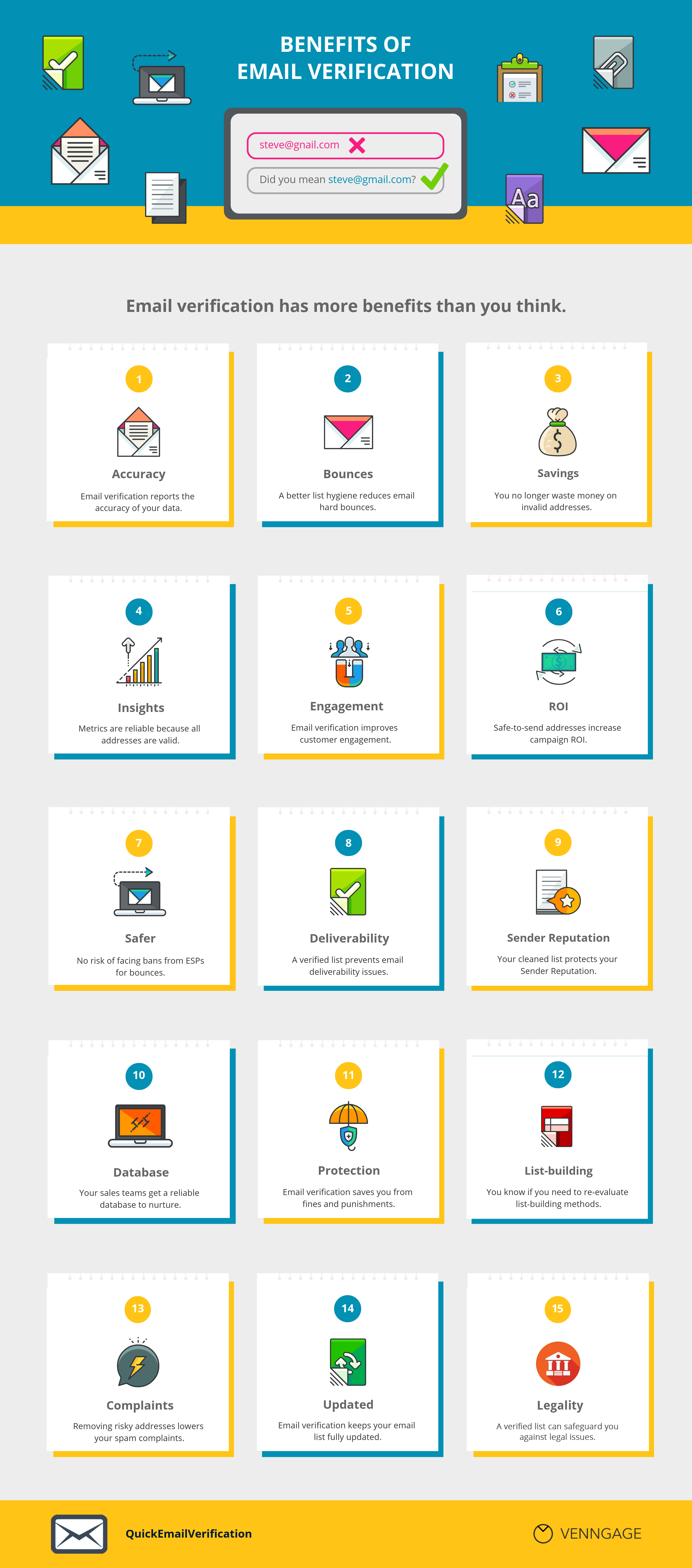 Conclusion
From cost saving to better analytics, from a major reduction in email bounces to fewer complaints, email verification benefits are multiple and meaningful. Successful marketers know this and always make sure they use cleaned lists.
At QuickEmailVerification, we provide our customers with a detailed breakdown of the results of email verification. This helps them separate out safe to send email addresses from undeliverable, risky or unknown addresses. As a result, they are able to run campaigns that bring better results.