Your email marketing will produce better results once you figure out how to improve email engagement.
You know email marketing ROI is huge, right? But if your own campaigns don't produce any neat results, you're not alone.
Your recipients receive a large number of emails daily. The challenge is to make your message stand out in your recipient's crowded inbox. If you can get your recipients to engage better with your email campaigns, you'll see results that are way better.
But how can you increase email engagement? How can you get your subscribers to click on the call to action button? How can you get them to do something that will drive business growth?
Here are 19 actions that will improve your email engagement. We have added examples for each of these tips, so that you can see how successful marketers have leveraged each idea.
Here goes!
1. Ace your email subject line
Research says upto 64% of email recipients use the subject line to decide whether to open an email. Which means you must know how to write a great subject line.
Email subject lines serve one single purpose: they should make subscribers open the email.
How do you get the subject line to do it? Should you use humor? A clear promise? Something suspenseful? Data? It all depends upon factors like your product category, your brand voice, your email strategy, your goals and more.
For instance, Holly's Writing Classes uses a little bit of curiosity in their subject line, without overdoing it.

Woodpecker, on the other hand, uses a very simple, yet extremely effective approach: Offer clear help. In their email, they have offered to show how to make cold emails deliverable.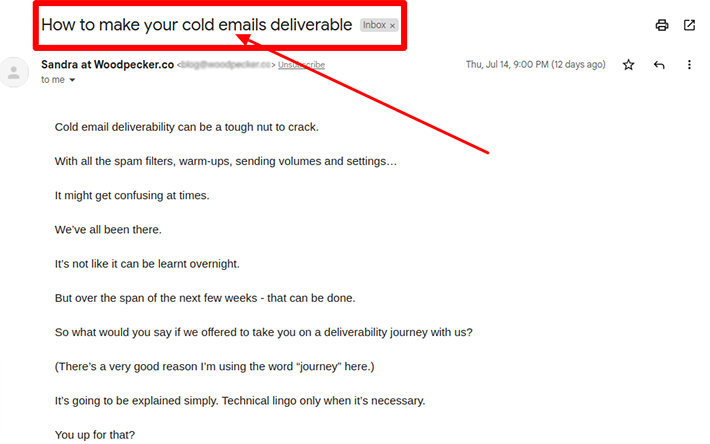 For email marketers, it's one subject line they simply can't ignore!
2. Use the preheader text to further help your subject line
That small bit of text that you see next to the subject line – that's called the pre-header text. Because it supplements the subject line, you want to make sure it's really good. The preheader text (sometimes called the preview text) connects the subject line with the rest of the email copy.
The preheader text is practically the last chance you get to encourage your recipients to open the email. Look at how MailerLite has beautifully used the preheader text to take the email subject line further and expand their promise.

Ideally, you want to keep it short, or at least mention all the important stuff early on. That way, even if the recipient's email client doesn't display the full preheader text, you have still made your value visible.
It'd be a good idea to use one of the email testing tools before you send. That way, you know what your email looks like on different devices and different email clients.
3. Personalize your emails
Email personalization is about making the email copy more relevant for the recipient based on the information you have about them. The email should look like it's meant to help one specific individual, and not like a piece of generic advice that no one can really use.
The following is a great example of how to personalize emails. B2BWI has set up a 1:1 coaching with the recipient – what could be more personalized?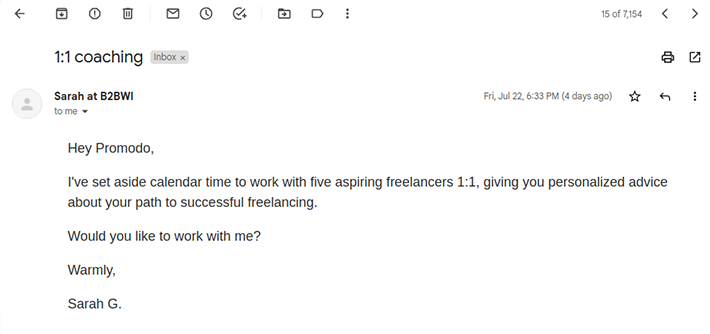 You can personalize emails on the basis of various parameters like their last purchase, their level of activity, their geography, and a lot more. A personalized email is one that's written so that it looks like it's written specifically for one person: you. With advanced analytics and tons of data, this is quite easy to achieve.
4. Write a killer email copy
A great email copy can improve email engagement very easily. But writing a great email copy is easier said than done. We know. Which is why we've chosen a great example.
Nat Eliason, in his Substack newsletter, has used some really compelling email copy. In this particular newsletter (with an interesting aphorism as its subject line: Choose Your Table Wisely), Nat talks about how he took a year off at college to build a startup.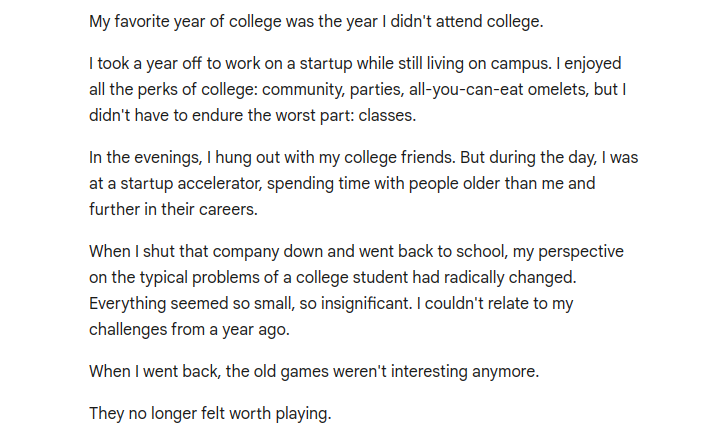 The email appeals to everyone who has been to college or has had a startup (or both).That's because his focus is on what he learned out of the startup (it ultimately didn't work out).
The email copy is so evocative you don't realize it's 1,300 words long.
5. Remove distractions and let the reader focus
Ever notice how Amazon uses the distraction-free layout on its site?

When you are checking out various products, you might feel you're flooded with alternatives and all that (the left image).
But the moment you choose a product and move towards the payment, the screen is clean – no distractions (the right image).
Pretty much the same way, you don't want any distractions in your email copy. Your recipient should see only those things that really matter.
One of the most respected marketers, Neil Patel, understands this very well. His emails are short, clean, and minimalistic. Check out the screenshot below.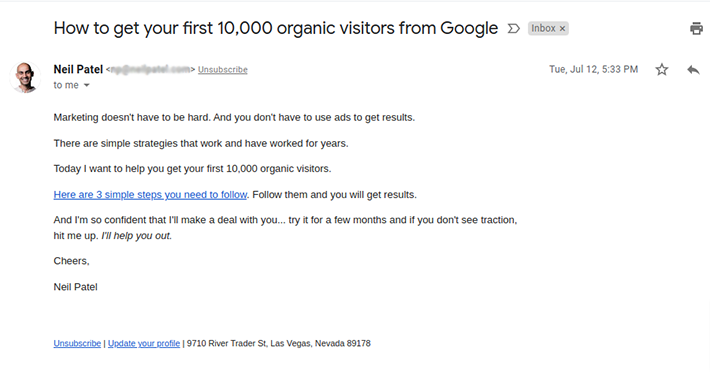 Notice the powerful subject line and the brief, clean email style -no fancy images to divert your attention.
What exactly is a distraction, of course, is largely dependent upon your industry. If you are into a visual-centric business like home furnishings or custom jewelry, an image isn't a distraction. But if you are a service-based business, the case for an image becomes much less compelling.
6. Use the power of Welcome Emails
The first email message you send to your new subscribers or first-time customers are called welcome emails. Hive reports the open rate of welcome emails is over 90%; it's crazy, so don't ever ignore sending welcome emails.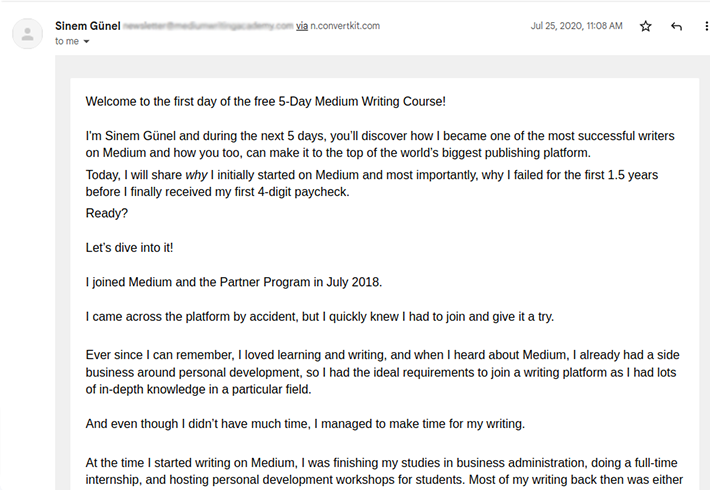 You can learn at least three things from Sinem Gunel's great example of welcome email:
Defines deliverables: Immediately after the welcome note, it talks about what the subscriber can expect over the next 5 emails. Knowing what they'll see in their inboxes encourages people to open emails.
Makes a bold promise: The email promises it will teach you how to make it to the top of the world's biggest publishing platform. If you can make such a bold promise in the welcome email, you've found one great way to improve email engagement.
Exhibits empathy: Sinem talks about how she failed at first but later made it. The email raises hopes for everyone who isn't yet successful but aspires to be. It shows Sinem has been there and understands the reader's journey.
7. Tell stories really well
If you're keen to increase email engagement, you need to learn how to tell stories in a way people would love. Humans are wired to love stories and your emails should tell a story.
When we say 'Tell a story', it doesn't mean a princess meeting a prince and they both riding off into the sunset. Your email copy should have the 3 key ingredients that make a great story:
The protagonist
A problem
The resolution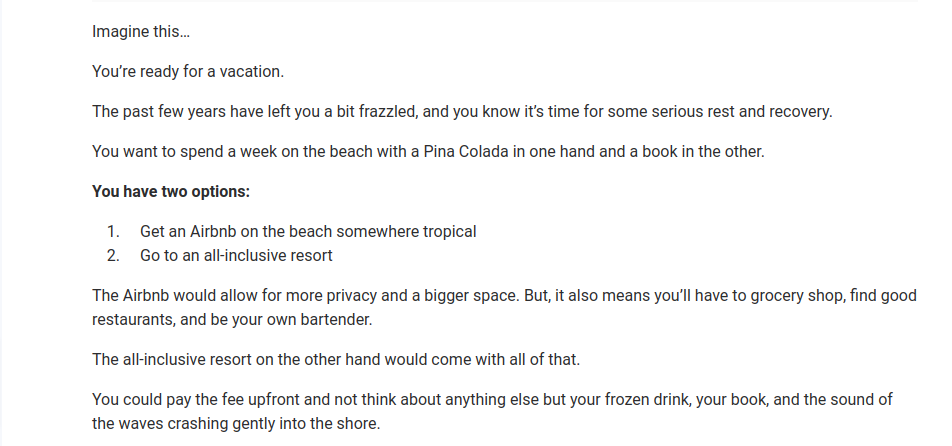 The above is a screenshot of one of Katelyn Bourgoin's email. You (the protagonist) are ready for a vacation, but aren't able to choose between a resort and an Airbnb (the problem). Katelyn goes to explain how we make purchase decisions (the solution).
She could have started like, "Hey folks, I've written some great stuff about purchase decisions. Wanna read?". Not many would have been impressed. Instead, she paints a vivid picture ('on the beach with a Pina Coloda in one hand and a book in the other'). Before you realize it, you're hooked. That's what a great story can do.
8. Maintain your list quality
Every year, about 1 out of every 5 email addresses turn invalid and become undeliverable. You need to remove such invalid emails from your email list, otherwise you'll see a lot of hard bounce.
Hard bounce is a strong indicator of a spammer. If you don't do something to stop hard bounce, email servers will soon begin treating you like you're a spammer. That would lead to a variety of problems. For instance, they may start pushing your emails in the spam folder of recipients. That would drastically reduce your reach, and deeply hurt your marketing ROI.
Use a bulk email verifier tool and verify email addresses on your mailing list. The tool will separate the safe-to-send email addresses from the poor quality or invalid addresses. Here's what the summary of the results could look like:

So be sure to scrub your list and maintain your list quality. That would go a long way in improving your email deliverability and ultimately in increasing your email engagement.
9. Remove inactive subscribers
Inactive subscribers aren't the same as invalid email addresses. Inactive subscribers are those whose email address is valid, but they no longer open your emails. They are no longer interested in what you have to offer.
Change of priorities, requirements, budget, and a lot of other factors turn some people indifferent to your emails. They don't open your emails at all – and that's how it remains for months.
A poor open rate can also negatively impact your overall email engagement. A good idea would be to send re-engagement emails asking if they'd like to continue being on your email list. If they do not opt to continue, drop them off your list. That will save on your sending and storage costs, and also protect your sender reputation.
HubSpot sends emails like the one below, informing subscribers their accounts might be closed. Even though it can reduce your overall list size, it actually is good for your business.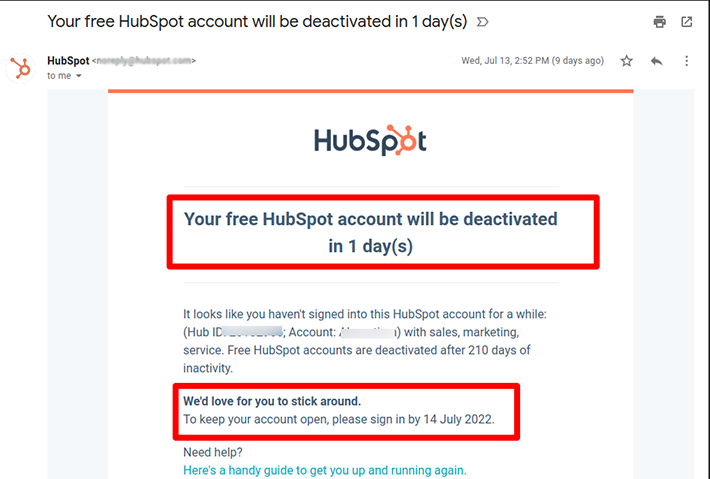 10. Add the muscle of social proof
Show your subscribers that other people are already buying from you. That's called social proof, and it's highly effective.
People are more likely to buy or take some action when they see others doing it. They are convinced that the solution has worked for others and hence it will likely work for them as well.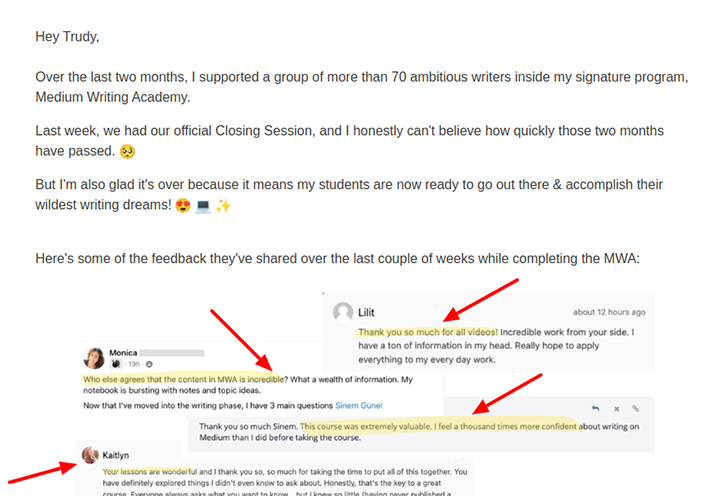 You can see for yourself how compelling testimonials can be. Genuine testimonials from actual users can be more convincing to prospects than most other things. If you aren't using testimonials, it's high time you began.
11. Quote reliable sources
Why should anyone read and engage with your emails?
One reason is they are looking for reliable sources for some specific information and you solve their problem. That's exactly what Charlotte Stix, AI governance scholar, does in her newsletter The EuropeanAI Newsletter.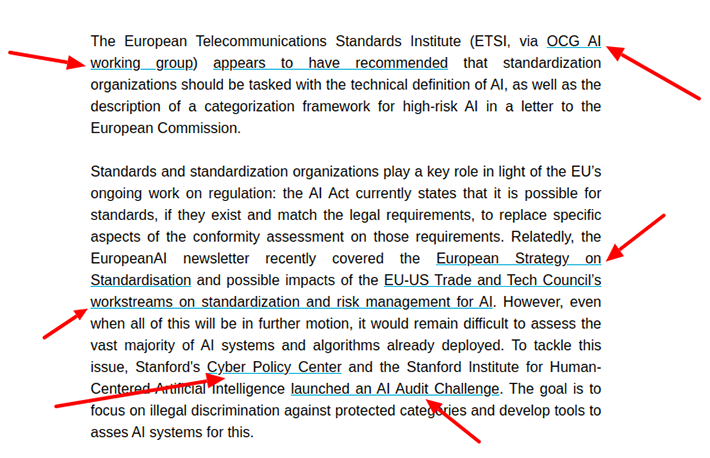 In each of her bi-monthly newsletter that she sends out, Charlotte writes about the latest updates in the areas of AI, ethics surrounding AI, governance updates, and more. And as you'd expect, her emails are packed with lots of references (see image below).
If you are sending out newsletters that are educational, you can consider adding more links to authentic, highly reliable sources. That way, you're saving time for your email subscribers, and they'll love you for it!
By the way, if you don't have a newsletter yet, you can read this beginner's guide to newsletters.
On similar lines, the CBNInsights shares a lot of research in the weekly research briefs. Note how the highly useful, yet very brief, summary, encourages recipients to read further.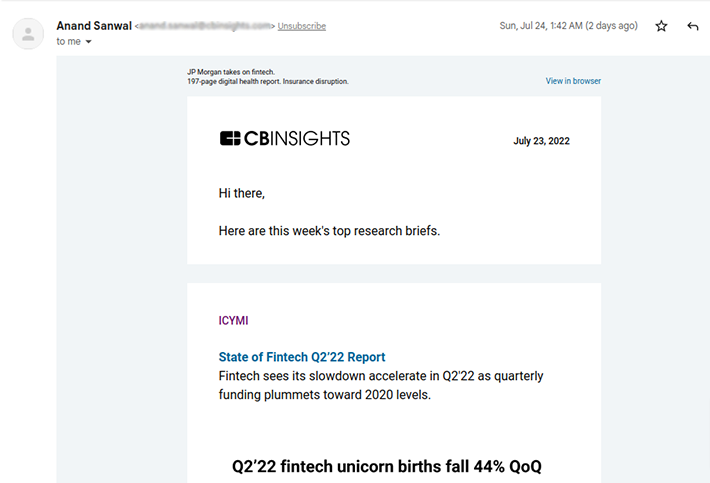 12. Teach useful stuff
Your subscribers have signed up for your emails or newsletters because they want something from you. It could be some information, some insights, some tips on saving money, some skills…. Anything that they think will help them live and work better.
The online world has opened our doors to learning like never before. You can teach hundreds of people whom you might never meet in your lifetime. And yet what you teach can transform their lives forever.
Alison Beere, with her emails, teaches how to draw cartoon figures better. Her emails carry basic, easy-to-follow tips on cartooning.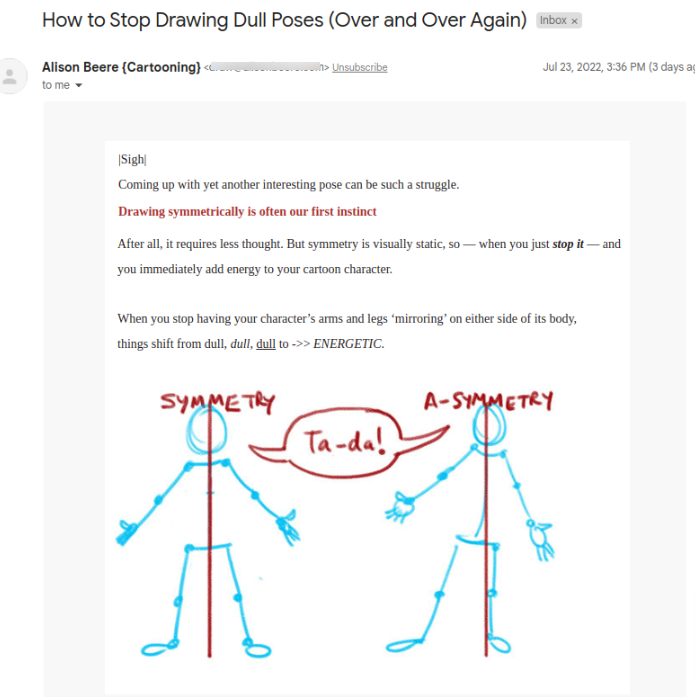 So what are you teaching your subscribers?
13. Offer to help, sales will follow
Sure, you need to worry about revenue and sales because after all, you're running a business. But that doesn't mean you have to keep selling all the time. Helping is the new selling, as they say. And with emails, you can help people like never before. So figure out some way you can help your subscribers.
Just like Alison Beere (in the earlier example) teaches cartooning, you too can figure out the ways in which you can help your subscribers. As Adam Grant says in his celebrated book Give and Take, people are always keen to pay back and when you offer some value, sooner or later people will feel obliged to return the favor.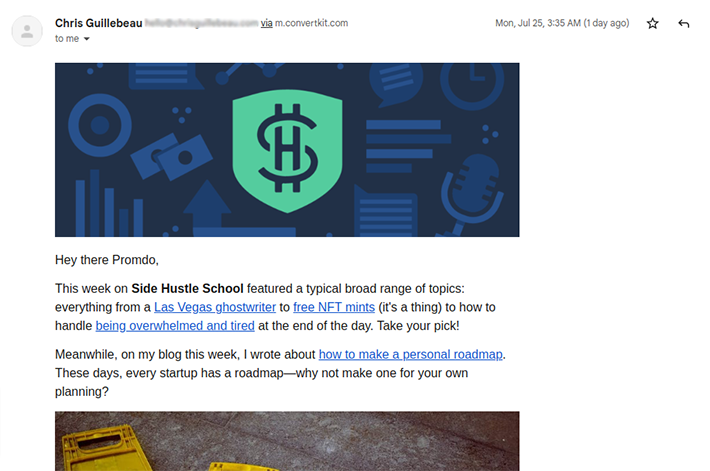 Just like most successful email marketers, Chris Guillebeau helps people by sharing some really valuable stuff.
14. Make social media sharing easy
Social media is all over the digital world. And that's exactly why you should make it easy for your subscribers to share your emails over social media.
If your email doesn't carry those small buttons that let people share your message with a simple click, most people won't think of sharing it. Even for people who do consider doing it, copying a part of your email and your subject line, then opening another tab, logging into their social media account… all this is a lot of work for them. In all likelihood, they won't do it.
By simply adding those social media buttons, you are not just making it easier to share, you are also making it easier to be seen more often on social media. And this counts very much when you're trying to improve your reach.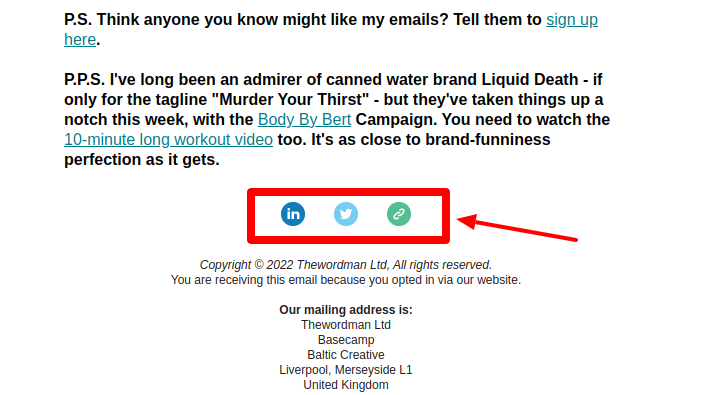 If such a simple action can improve your reach, why not do it?
15. Encourage action with FOMO
Keeping up the Jones has been a driving force in many marketing exercises since a long time. When you tell people they need to take some action soon or they might lose an amazing opportunity, they are more likely to take action.
Notice how the people at Copyblogger have used it with great effect. Per the email, the price of $49 is valid only until tonight. If you don't act fast, you'll miss out.
There are many variations of how companies can use FOMO: prices going up, running out of stock, extra warranty expires, running out of free gifts, ….the list goes on. As long as your use of FOMO is genuine, you are going to see higher click through rates and better conversion rates.
16. Enrich emails with visuals
The core of all email engagement tips is to make your recipients open and read your emails, and then act upon them.
So you want to make your emails a little fun. And what better than using visuals?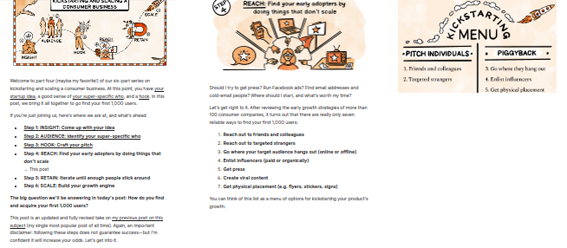 Lenny's emails are often long, like, really long. But then, he shares tons of valuable content. And yet they are fun to read. That's because he uses beautiful images in his emails.
Fitting images in your email copy isn't always easy. You want to make them contextual, and besides, you want to stay true to your brand voice. All the same, you should consider adding visuals to your emails and engage your subscribers.
17. Make your subscribers the hero of the story
People are interested in their own story more than they are interested in yours. So why not turn your email recipients into protagonists of the story and celebrate their success?
We all love to hear achievers talk about how they made their first sale, earned their first thousand dollars, won the first project… And that's also the reason we like to talk about how we ourselves did it. That's partly because it gives us the feeling we have arrived, we have made it, we are the achievers people look up to…
Joanna Weibe used this idea intelligently. She's a marketing bigwig but she's inviting her subscribers to talk about how they made their first thousand dollars. Not many would refuse to share their story, right? See below.
By celebrating their success, Joanna has achieved a loyal following of email subscribers who will look forward to reading her emails for many more weeks and months. Because Joanna has made them the hero.
At every possible opportunity, you should raise a toast for your subscribers' success. Here's some of the many ways:
Invite their comments on an important industry issue and then credit them for the thoughts
Create a story that's a bit like rags-to-riches and talk about customers who started small and later made it big
Cover customers who have used some ingenious ways to overcome challenges
Applaud customers who pointed out a great use of a very commonplace feature of your product
18. Create a compelling CTA
You don't want subscribers to just read your email without taking any action, right? A great CTA is the solution to many of your email engagement woes.
A Call To Action (CTA) is more than just people clicking on a link or a button- it is a clear metric of how your emails are performing and how much business you're winning from the emails you're sending.
"Read more" is a widely used (but also slightly commonplace) CTA text. If you use this simple text, be sure to back it up with a strong headline, like Animalz did it below.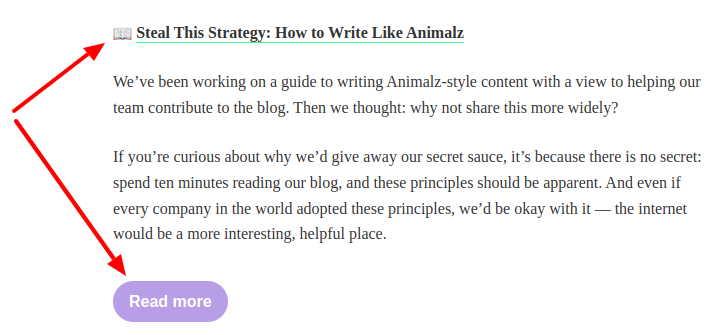 If you're making an offer, it'd be a good idea to steal MarketingProf's text in the CTA button below. While the title of the section brings in FOMO, the CTA button makes it very clear what will happen if you click it (you'll save cash, basically).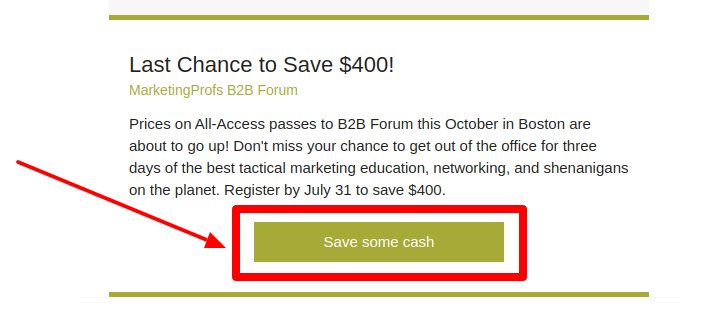 Such clear text makes it extremely easy for recipients to understand what benefits they will get if they click on the given button.
19. Discover your formula – and keep improving
The beauty of marketing messages is that there's no one single formula that's right all the time. Different industries, different products, different target groups… each of them will influence what's your secret sauce to email engagement success. And again, the best formula is never permanent – it will keep changing as new insights evolve.
Karthik at Buildd apears to have found their formula – an interesting email about something everyone would love to read. And forward. The email itself points to a detailed, data-backed long-form article.
Key takeaways to increase email engagement
Better email engagement means better business. So it's obvious it's a highly desirable goal.
On the basis of the examples of successful email campaigns that we studied and shared above, we are convinced that adopting the following in your email strategy will help your email engagement:
Ace your subject line: Crossing the first barrier is vital, so you want to create really interesting subject lines.
Personalize your email copy: You want to write emails that sound like they've been written specifically for the recipient, not the hundreds or thousands of names on your email list.
Maintain your list quality: A healthy email list that doesn't have invalid, disposable, or otherwise not-safe-to-send emails is vital to strong email engagement.
Make your subscriber the hero of the email: Keep your subscribers in the center of all you write. Your email should celebrate them, not you.
Offer to help, without being in a hurry to sell:. You can't sell all the time. But you can help all the time. So be sure your email content is valuable enough for people to read.
Enrich your emails with visuals: Any images or photographs that go well with your product and brand voice will definitely raise your engagement levels.
Use testing to discover the formula for your perfect email: The perfect email is different for everyone. Keep testing.