Email marketing for the real estate industry needs a massive overhaul. Why is that so?
As per the email marketing benchmarks by MailChimp, the real estate industry is one of the top three industries that have the highest abuse rate, 0.015%.
The real estate industry has witnessed growth. By April 2019, around 673,000 houses were sold in the U.S., which is 12.4% more than last year as per the research by the U.S. Census Bureau, 2019.
Looking at the increasingly complex demand for real estate buying, real estate agents or companies need to change their game of email marketing to reduce abuse or spam complaints.
Higher abuse or spam complaints can affect your brand reputation as your ISPs push your emails to spam folders. And your customers are never going to trust you.
What other challenges do real estate marketers face while investing in email marketing? Let's find out:
6 Challenges faced by real estate email marketers
1. Market volatility
Predicting real estate market conditions is one of the most significant challenges. They are not in your hands. Property prices keep changing.

Graph showing the fluctuations in median sales price of homes in the USA over the years
Every email marketing campaign is based on a specific idea. Let's say you have been working on a particular theme that takes into account the current market conditions. You wanted to lure prospective buyers through the idea.
So, you got things in order, finalized emailers, got the creatives designed and have the target list of email addresses ready to trigger the campaign. 
But suddenly, the market changed, causing a shift in the buyer's perspective opposite to your idea. 
Would it be a good idea to initiate that obsolete campaign?
Doing so would only lead to wasting your time and money. 
Realtors become the victim of the market conditions, which causes fluctuations in the sales graph. This also leaves them dumbstruck about investing in email marketing campaigns.
2. Fragmented marketing campaigns
You might think real estate marketing is different than what works for other industries, which is not true.
Effective marketing techniques are those which capture the essence of the market. Particularly for real estate marketing, the strategies followed are often fragmented.
How?
Most of the real estate marketers, big or small, start with fragmented marketing plans. Being unaware of how things must work in business marketing, they are willing to invest a portion of money in SEO, another one in visuals and creatives, and similarly for email marketing, print marketing, and social media marketing.
You might feel that's how you can reach the property buyers.
But if you see the big picture, all of these components of business marketing does not seem to work together. They are not in coherence with each other.
While the emailers say one thing to the buyers, the media planning approach and SEO strategies are based on the other.
You may get some good results in the form of a few deals being closed. 
But, the results would be short lived.
3. Lack of awareness about the right email marketing tools
Marketing automation gets results and it is equally true for the real estate industry just as it is for others.
Real estate marketers know this but that's where the challenge lies. They know a few popular tools for designing and scheduling the newsletters. But, they don't know about other tools such as tools for email address validation, Drip marketing, and more.
One of the crucial aspects that drive the success of email marketing campaigns these days is the selection of the right tools. Not using the right set of email marketing tools can result in an inaccurate analysis of campaign results.
4. Cultivating a database of leads & referrals
You can't think of planning and executing a great email marketing campaign unless you have permission from people to get into their inbox – which means having a sizeable email list.
Building a big database of your existing leads or referrals is not easy, especially when you are in the real estate business. 
People often buy home or commercial properties based on peer recommendations.
Not building a database of your leads make you lose the chance of asking for referrals, which may become a time-consuming process. 
5. Lack of segmentation
It is a process in which you split your email list into specific groups based on their intent.
For instance, if you have a bigger, unified list of the clients to whom you sold properties in the past or the prospective ones, you can segment it up this way:
The ones who bought a property

The one who showed the intent of buying one

Your newsletter subscribers and others
Similarly, you can add other levels of segmentation into the list, such as for those who want to know more about your upcoming real estate projects and others who don't.
Segmentation is crucial as you get to know which kinds of email messages should be targeted to whom. You can even experiment with A/B testing of mailers for different groups to understand who is responding well enough.
The best part: it is not rocket science, though it's difficult in it's own way.
It does work, but not every realtor is willing to give it the time it deserves to make wonders happen.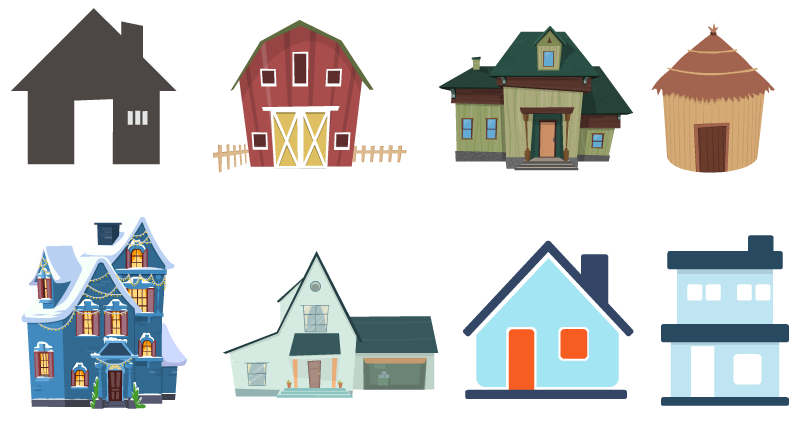 Different buyers may be looking for different kinds of properties.
6. Lack of campaign analysis
One of the most crucial challenges for the real estate marketers is to keep a close eye on the campaign analysis.
Every marketer in the real estate industry opens the Analytics tool and checks how many clicks they've received, how many people have opened their emails, how many of them have unsubscribed, etc.
But, that's not all.
The real analysis is to understand the pattern of open rates, click-through rates, and unsubscribes.
Analyzing these email marketing metrics regularly helps you conclude whether you are in the right direction or not.
Until and unless you analyze these metrics and compare them in detail, making improvements is impossible.
Being into the real estate industry, marketers find a tough time to create a fail-proof strategy because of the challenges mentioned above.
Let's find out how to solve these real estate email marketing challenges with the help of these powerful and successful email marketing tips.
8 Unbeatable real estate email marketing tips
1. Keep in mind property sales don't happen over emails
Conversions don't take place over emails in the real estate industry.
If you know about the lead capturing funnel, the promotional emails you send to people only attract them towards your properties and help them understand everything about them.
No one buys a home or a shop just by looking at its photos or details online. Real-time communication between you and the potential buyers happens before you close a deal.
Accordingly, the content in your emails that are intended to market your real estate business should say the same.
Avoid becoming too salesy in your emails. Instead, build brand value by talking about the pain-points of property buyers.
Here's the brief summary of Tip 1 in an image: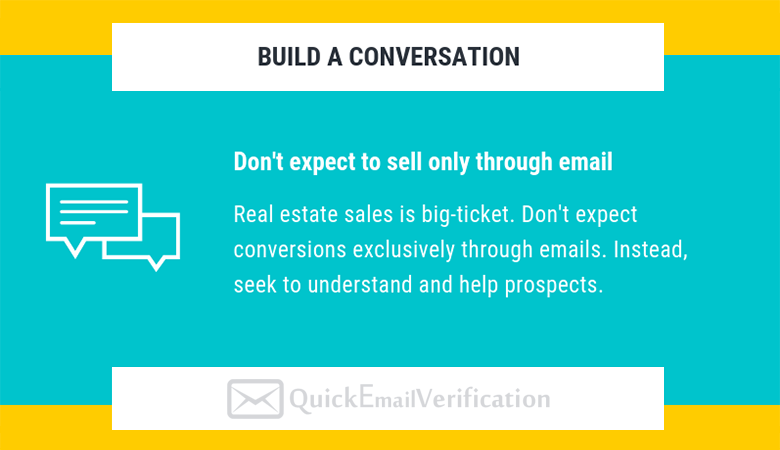 2. Create an email marketing plan that works
In the real estate industry, the market situation keeps on changing. Sometimes, the prices might go sky-high, or hit an all-time low.
With such market volatility, it becomes challenging for the real estate marketers to create a plan that works based on the market situation.
Here, creating a strategy becomes the best option to work on. But, before that, you need to investigate a few things-
Understand how the current market situation is (low or high)

If it's low, identify the root cause of the low market situation: economic growth, unemployment, interest rates, government policies, etc. 

Find out whether your property lies within the areas where the market condition is low

Talk to your potential buyers about their thoughts on the market situation and find out what they're expecting
Based on this investigation, you can develop a strategy around what incentives or deals you can offer to your potential buyers to inspire them to buy your property.
Multiple email marketing campaigns can help to make your audience-
Aware of the current market situation

Note how profitable your current deal is as per the market situation

Take an interest in at least having a conversation with you or your sales team so that the chances for conversions get higher
Creating this step-by-step email marketing plan can help you sustain in the market, even during stagnant market conditions.
Here's the brief summary of Tip 2 in an image: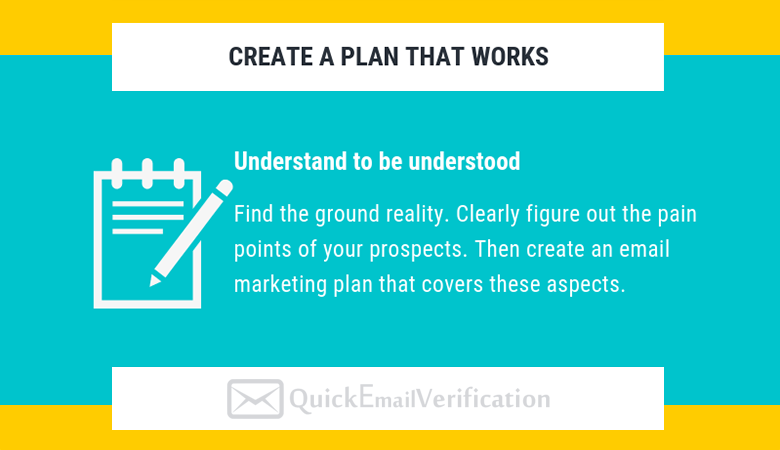 3. Do customer segmentation the right way
Why do you need to do customer segmentation for real estate email marketing? Because segmentation helps you reach the right customers in the right way with the right message.
Imagine, if you send emails promoting a lavish home with bright colors to people of all ages. How are the people between the ages of 64-72 going to buy homes with such loud colors?
Looking at such emails, the baby boomers (people between the ages of 64-72) will report you as spam and unsubscribe from your email marketing list. As a result, you're losing your customers' trust, which you cannot afford.
So, here are the 10 quick and easy ways to segment customers for your email marketing campaigns by Neil Patel-
Demographics

– Segment your customers based on age, gender, income level, company position, and more

Survey or quiz results

– Survey or quiz will help you understand individual tastes, preferences, and beliefs

Email engagement

– Segment your customers differently who opens your emails and click through them often

Geographic locations

– Needless to say, customer segmentation based on the geographic areas is a must for the real estate industry

Past purchases

– Customers who have bought real estate from you needs separate segmentation

Amount spent

– Segment your customers based on the price they've bought real estate from you

Position in the sales funnel

– Whether a customer is new, already looking to buy, or previously purchased a property- all these need a unique segmentation

Website behavior

– how customers travel within your website and what actions they take- track all of these and segment them differently

Time since last purchase

– Segment the customers separately who bought last week, month, year

Personal interests

– Ask your customers to choose what they're looking for from our emails such as small properties, workplace, and more, and based on that, segment them.
Here's the brief summary of Tip 3 in an image:
4. Create integrated marketing campaigns
Fragmented marketing campaigns give you returns for a short period. That's the reason why you should not rely on the same.
What you need is an integrated marketing campaign with properly aligned goals. That way, your customers (or even visitors to your site) get the same experience every time they engage with your brand. In other words, all your marketing tools – PR, ads, direct marketing, social media and everything else – should be in sync. All marketing communications and strategies need to be consistent.
To achieve this, you can break down the entire process into the following steps:
A. Understand your target user: Build your buyer persona and keep tweaking it on the go as you improve your understanding of your customers.
B. Define your goals: What do you wish to achieve with the marketing campaign? What outcomes will please you?
C. Optimise your channels: How many marketing channels can you serve? It's a good idea to serve fewer channels more efficiently than to serve many channels with poor efficiency.
D. Divide the tasks between in-house and outsourced resources: There could be some activities that only your own teams can do well.
E. Agree upon the strategy: Make sure all your resources – outsourced or in-house – fully understand the strategy you intend to pursue. Get their buy-in.
F. Identify measurement tools: Ensure that all teams understand what things are to be measured, how they will be measured and also how often.
G. Design the message: Combine resources to come up with the right message with the strategy you have chosen. Make sure it resonates well with the uniqueness of each channel.
H. Check your lead-nurturing and response mechanism: Your marketing results are only as good as your follow-up. Be sure your sales teams are all trained and charged up to respond.
I. Measure, improve, repeat: All forms of marketing are dynamic; they keep evolving. As a result you must keep doing the fine-tuning as results trickle in.
J. Welcome change: A small bunch of the assumptions you began with may turn out wrong.
Integrated marketing campaigns help you generate opportunities at the right places and drives substantial growth for your real estate business.
Here's the brief summary of Tip 4 in an image: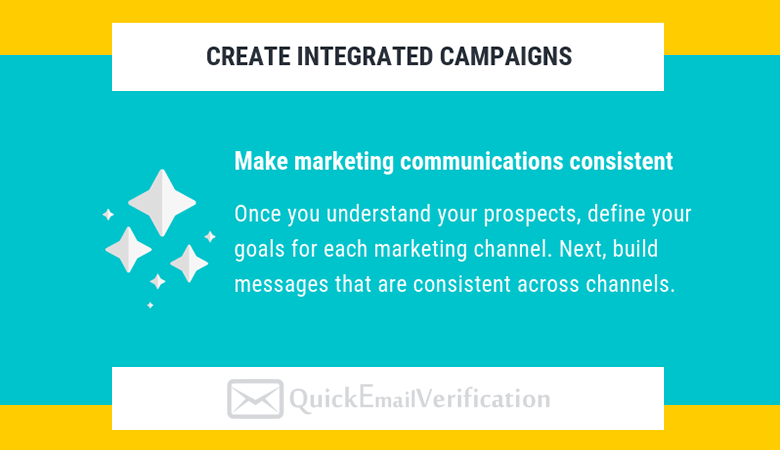 5. Opt for email marketing automation
Emailing to thousands or millions of contacts is a tedious and time-consuming task for the real estate marketers.
Hence, email marketing automation is the only solution.
But, you may feel this is counterintuitive for the real estate industry where customer-centric messaging is a must.
However, through email marketing automation, you can create workflows that automatically send emails based on certain specific triggers. 
Now, e-commerce marketers' data says 55% of these marketers use email marketing software to deliver a personalized experience to the users.
Here are the instances where you can utilize automation while working on the real estate email marketing 
A. Validating email addresses
One of the most significant automation required in email marketing is in verifying the email addresses and validating them for not being the fake ones.
The real estate marketers have a huge database to send emails to. If you're sending emails to addresses that don't exist or they are fake, the email bounce rate would be very high.
This might affect your sender reputation among the ISPs and ESPs. So, verify all the email addresses for the genuineness using the email verification tool.
This tool allows you to verify email addresses in bulk with the highest accuracy. So, you can rely on it completely. At the end of this email verification process, QuickEmailVerification tool provides you with a detailed analysis of how many emails are fake and how you can reach your audience more.
B. Scheduling emails
See, designing emails cannot be automated. But, sending can be.
Not necessarily you're available on your desks to send the emails when your audience are likely to be active on their email accounts.
So, scheduling emails is the best option.
Design your emails and schedule them using email marketing tools.
A good email marketing tool allows you to choose the database, email design, and dates and timings to schedule your email campaigns on.
Once, they're sent, you can analyze how many emails were opened, how many clicks did you receive, and how many users unsubscribed. 
C. Creating strategic drip campaigns
Strategic drip email marketing campaigns help you send emails at specific times and dates to your real estate audience.
Drip email marketing campaigns are essential for the real estate marketers because sending welcome emails to the new sign-ups, following-up with the leads, and more becomes difficult for the thousands of email addresses.
Hence, Drip campaigns allow email marketers of the real estate industry to automate the triggers whenever the user clicks on certain links or buttons. Such triggers automatically send out emails consisting of sequential information required for your audience to know.
Drip campaigns can be well managed using a good email marketing tool. Good marketing automation tools allow you to choose the right triggers, conditions, and actions to send the right emails to the right audience at the right time. 
Here's the brief summary of Tip 5 in an image: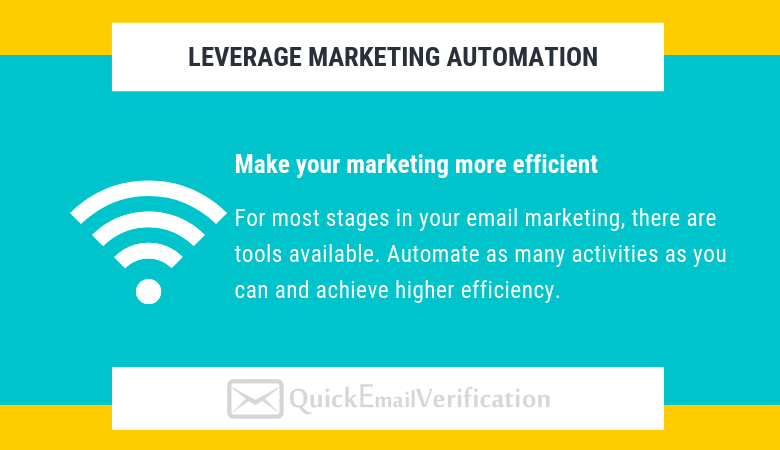 6. Plan a strategy to nurture your leads
Lead nurturing is crucial as it helps you build good relationships with your prospective buyers of the properties you sell. 
Not all people who inquire about your properties are ready to buy them at the same time. You might have only got a lead through a lead magnet in exchange for some relevant information. 
You can be more attentive to their specific needs by sending them emails for casual conversation. 
You can create various email marketing campaigns for lead nurturing-
Welcome emails

Emails to educate

Emails to persuade

Reminder emails

Holiday emails
These email campaigns can help you nurture your leads at the right time.
Here's the brief summary of Tip 6 in an image: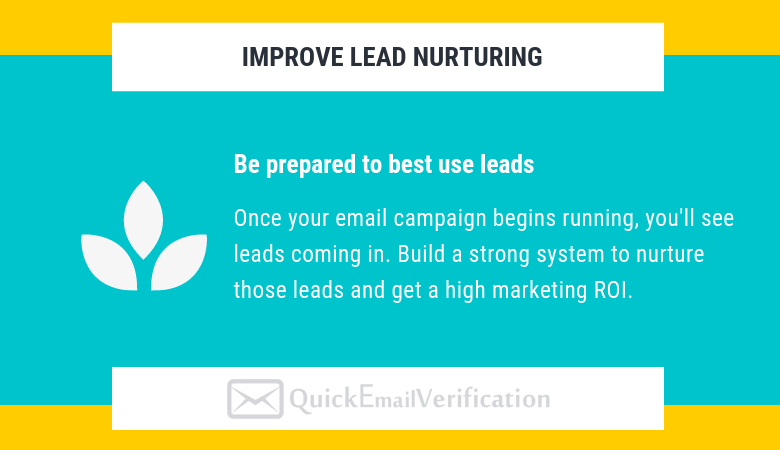 7. 

Run a series of persuasive emails

With a perfect planning, you need effective email writing and designing as well.

You might be using various graphics in your emailers to send to your real estate audience. That is only one way to showcase how your property looks like.

But, these days, it is difficult to persuade the audience to take an action of knowing more about your properties, connecting with your sales teams, and more.

So, here are some powerful ways to run a series of persuasive emails-

A. Right context

Be sure your emails convey exactly what your potential buyers can expect. That way you're more likely to get higher CTRs for all of your real estate email marketing campaigns.

B. Variety of visual graphics

These days 3D effects work amazingly. Also, if you showcase your properties using GIFs, shorter videos, and more such ways, your audience will engage more with your emails. And, when the engagement level is high, your real estate sales team won't find it difficult to convert your leads into customers.

C. Personalization

Like discussed above, a personalized email message is the need of the hour. So, make it mandatory across all your real estate email marketing campaigns.

D. Storytelling

Use stories around your properties to make sure your email open rates increase campaign-after-campaign. Stories have a higher impact on readers, and hence, you need to use it in your emailers.

Try different ways to persuade your potential property buyers to ensure they don't unsubscribe you.

Here's the brief summary of Tip 7 in an image: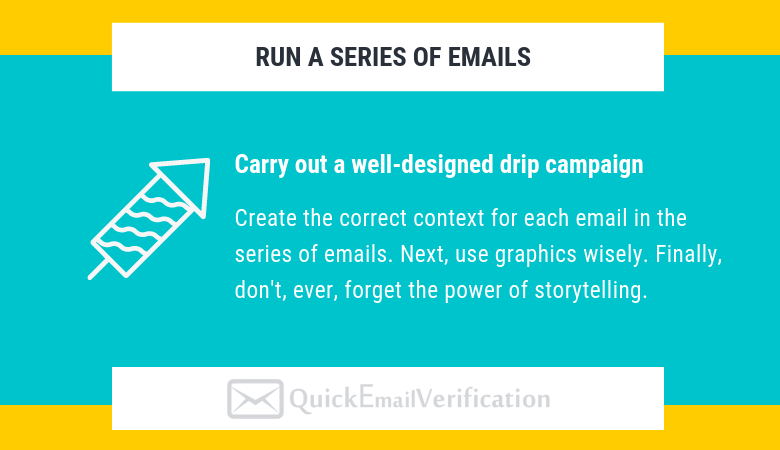 8. Analyze the campaign results
Most real estate email marketers don't analyze and compare the campaign results with the previous ones.
What they look at is how many emails were opened and how many clicks happened. But, that is not enough to measure email marketing ROI for your real estate business.
Compare your email marketing campaigns with each other and try to analyze which KPIs to measure, and what works best-
Open rate

Click-through rate

Conversion rate

Bounce rate

Unsubscribe rate

List growth rate

Sharing and forwarding rate

Revenue per email

Device metrics
Analyzing helps you make the necessary changes in the scheduled or planned campaigns to achieve the highest ROI.
Here's the brief summary of Tip 8 in an image: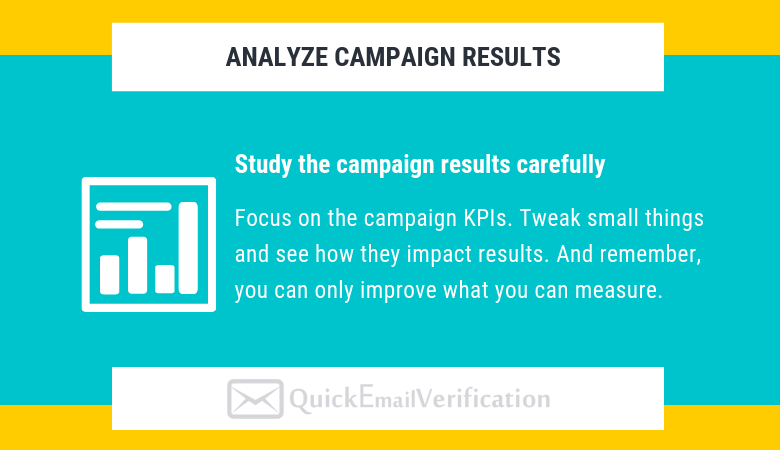 Boost 5X email marketing ROI for your real estate campaigns
The real estate industry has a huge potential to seek prospects online, convert them into paying customers and serve them profitably. While every real estate project is unique in terms of its size, location, pricing and so on, the common principles of marketing apply uniformly to the entire industry.
To summarise, here are out 8 tips for real estate email marketing:
Understand that conversions don't happen over emails
Create an email marketing plan that works
Segment your mailing list
Create an integrated marketing campaign
Opt for marketing automation
Plan out a workable lead nurturing strategy
Run a chain of powerful emails
 Analyse your campaign results
And don't forget to comment how much increase you saw in ROI!