If you run a non-profit organization, or your business undertakes charity activities, you can use email as a marketing tool to improve your marketing return on investment.
Here are a few stats to consider:
According to Ironpaper, 69 percent of non-profit professionals believe email and newsletters are some of the most effective content marketing tactics for the overall growth of their business.
Additionally, GetResponse's Email Marketing Benchmarks reports that the average open and click-through rates, considered some of the most important email marketing metrics, for non-profit email marketing campaigns are 36.84 percent (2nd highest amongst all industries) and 5.05 percent respectively.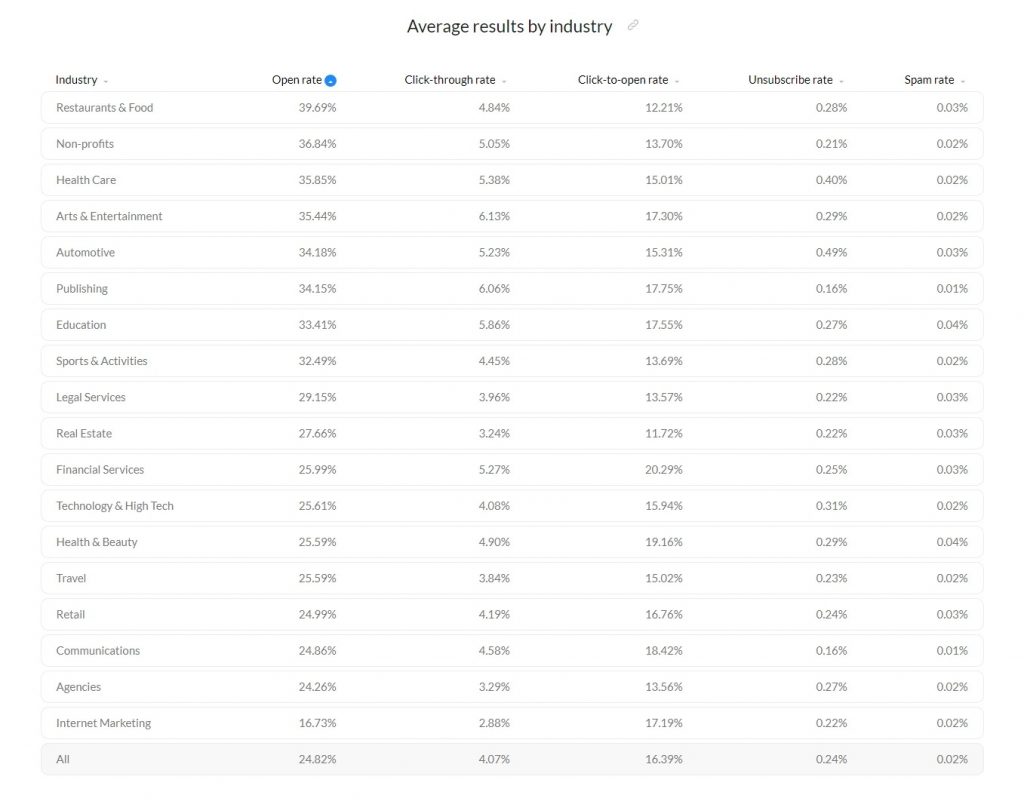 To help you understand the basic elements your non-profit marketing emails should cover, this post outlines examples that will guide you on your way to improve conversions.
1. Use creative text and imagery
The imagery and fonts in your email copy enhance the look and feel of your emails. For a winning email marketing campaign, you need to highlight certain parts of your email to grab the readers' attention and keep them engaged with your brand.
Donors will generally connect the images they see to the commendable work you are doing. It would make them want to support your non-profit by building deep and lasting relationship.

Source: Really Good Emails
This email header from WE uses creative typefaces, bold colors, and imagery to attract subscribers. The rest of the email is on a plain white background, which highlights the text and call-to-action (CTA). The brand's mission and vision are reflected throughout the email through its copy and graphics. The entire email comprises of sections supported by though-provoking copy and actionable CTA.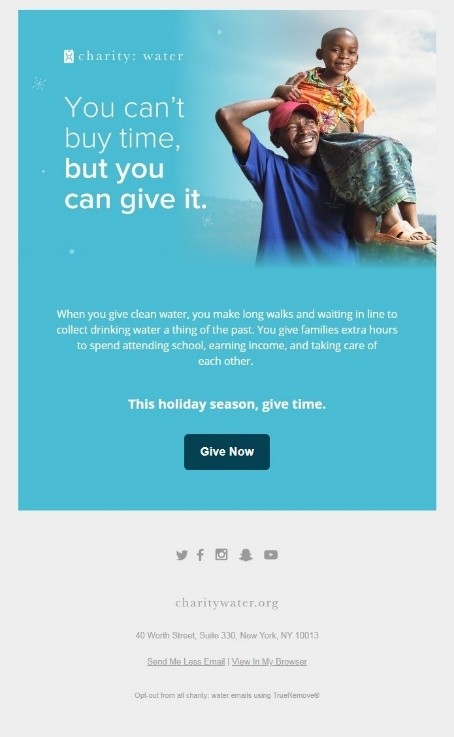 Source: Really Good Emails
Another example is an email by Charity: Water. They use a heart-warming hero image and headline. The copy of this email is very strong, and the CTA is bold and prominent to induce the viewers to donate. You need to make your copy so compelling and powerful that your readers remember it, spread the word, and take action.
Quick tip: Generally, people have a habit of scanning across emails and when an impactful image paired with an equally actionable message in your email greets the prospective donor, it will be better remembered.
Whenever you include visuals with poignant headlines and copy, your donors ought to understand the emotion and make a donation. It instils trust that the non-profit organization will make the best use of the donated resources.
The goal of any email is to make the subscriber take action. Instead of using generic terms such as 'Know More' or 'Click here to make a change' as CTA copy, use a persuasive call term as 'Give Now' or 'Make a Change' or 'Show your support'. By using contrasting color, the CTA button stands out from the email copy and is clearly recognizable even skimmed over.
2. Demonstrate your mission, always
There is always a cause worth donating to—your job is to demonstrate why your cause deserves donations. Make sure your emails always demonstrate the core mission even when you send a targeted email for a particular event or ask.

Source: Milled
This email from North Shore Animal League, an organization who rescues and manages the adoption of animals, is part of their series focusing on their operations after Hurricane Harvey. The email gives updates of their day-to-day tasks and asks for more support from their donors. With a major portion of the email being simple text, the message is conveyed clearly even if the images are disabled by the email client.
In fact, anyone relying on screen reader to 'read' the email copy will also have a good user experience, so having your email copy as simple text is great from accessibility point-of-view. Moreover, repeating the CTA helps the subscriber to click them without scrolling back. The email ends with the signature of the fundraiser, which again reinforces a sense of assurance.
Quick Tip: For emails that are regarding a disaster or serious operations, focus on conveying the message rather than the aesthetics. Sometimes, it is better to keep it simple, as words convey more than images can.
3. Send emails for holidays and special occasions
Almost everyone has a cluttered inbox and it only gets messier during the holidays. Make your non-profit emails stand out by including an element unique to your organization.

Source: Really Good Emails
Take a look at this Mother's Day email from St. Baldrick's Foundation. Instead of a simple Mother's Day greeting, they open with the option to send a personalized e-card created by their beneficiaries. The email also highlights heart-warming blogs for Mother's Day.
With the use of emotive images and soothing colors, the email is sure to stand out in the subscribers' inbox as well as their heart. It blends with the Mother's Day vibes and persuades the reader to participate in the cause.
Quick Tip: Whenever you are sending an email for a special occasion, it would be a great idea to wish the readers. Instead of just asking for donations, convey the message that you are thinking of their wellbeing on this Day.
4. Give options to spread the word on other channels
When supporters opt into your non-profit's email list, acknowledge their interest to join the cause and encourage them to share the good work and invite others in their circle to be a part of it. For this, your non-profit needs to be active across social media channels and leverage the visibility to reach out to more people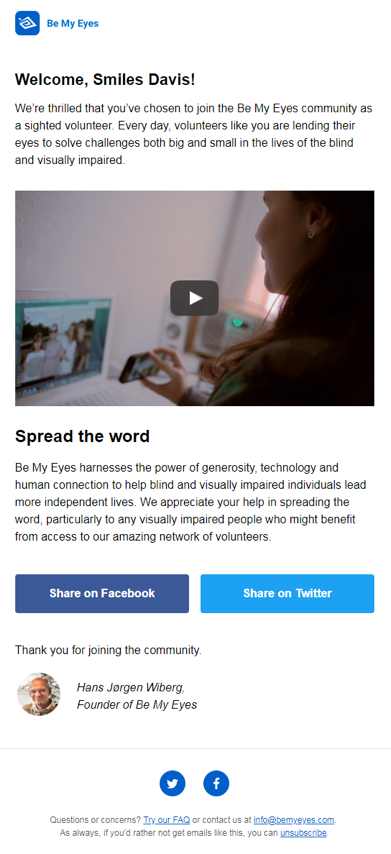 Source: Really Good Emails
This is a welcome email from Be My Eyes that takes the subscriber through the organization's journey in an embedded video and asks the subscriber to spread the word on social media. The sharing buttons are the only CTAs on the email which encourages the supporter to share as a next step.
Quick Tip: Include social sharing icons in all of your emails so that your email subscribers can follow you on social media and keep themselves updated on all the fundraising activities. After all, better visibility brings better returns.
5. Introduce your mission
Introducing your subscribers to your organization's mission and goals is a crucial step in spreading awareness, so right off the bat send a series of welcome emails to introduce your story and vision for the future. Stories make people psychologically keen to join your cause.
You can either include a personal anecdote from the CEO of your company to make the content more personal or promote a blog that talks about your story.

Source: Really Good Emails
This email from Patagonia Action Works takes the subscribers on a tour of the organization. With the use of GIF animation in bright colors, the email introduces its roles and mission. The email features the brand story and motivates the subscribers to take action via the prominent CTAs.
Quick Tip: Make your subscribers feel a part of your movement. Right from your subject line to the email copy tone to how you sign off your email, make your subscribers feel motivated to open and engage with the email. It is not always about words. Sometimes, pictures can convey stories more strongly than text.
6. Show gratitude
"Gratitude is the fairest blossom which springs from the soul."(Henry Ward Beecher)
Not everyone voluntarily takes part in a social cause. Say thanks and show your gratitude to those who take out their time to contribute to your work.

Source: Milled
This New Year's email from Oxfam gives a review of the organization's entire year and thanks the donors for their contribution. With an embedded video, stories, and articles about their accomplishments, this newsletter is a wonderful example of a thank you email.
Quick Tip: You can send weekly, monthly, and yearly newsletters featuring your non-profit's impact stories and feature the top donors to appreciate their efforts.
Wrapping up
If email is not yet a prominent part of your marketing campaigns, use these examples as a guide to create your non-profit email marketing campaign. Make sure you portray your message very clearly and target the emails to the right subset of your audience to gain maximum results.
Often, some simple email tweaks can help people better appreciate your overall goals and make them commit resources to further your work.