In this digital age, who isn't flooded with emails? Dozens of emails land in our inboxes every day. In fact, according to this Mcafee report, 1 out of every 2 (about 50%) Americans spend more than 40 minutes per week deleting spam. That's about 1.5 days a year!
And even when people open emails, they don't do it mindlessly. They first look at the sender's name and then at the subject line before opening the email.
Did you know one out of every three recipients decides whether or not to open emails, purely from the subject-line alone? That means if your subject-line isn't good enough, you'll have lost 33% of your target audience from the start.
No wonder marketing experts suggest you spend a lot of time finalizing your subject-line. You'll want to research a lot of variations and write a number of subject lines before you finalize one particular subject-line.
So what goes into making a great subject-line that will almost always get fantastic results? Although there is no magic, there are some vital aspects of the subject-line which can strongly influence the open rates. So here are 8 powerful rules:
1. Keep it precise and short.
The subject-line will be pruned if it exceeds a certain number of characters. On the mobile phone, it might be pruned even further. So what do you do?
First of all, the subject line should be short and precise. Mailchimp suggests you limit the subject-line to 50 characters.
However, do not compromise clarity by using information that the recipient need not know / does not understand. Consider the following example:
"Product RG2874-4K/2 despatched" is shorter than "Your order for riding gloves despatched.", right?
But is it more precise? What do you think will the recipient understand by the code RG2874-4K/2? Nothing. So the second version is a great deal better than the first.
Use the short product description: lawn-mower, mouse-pad, books… whatever the object. That way, the recipient happily understands why you are writing in, and that improves the open rates.
2. Make it personalized
It is rightly said there is no sound sweeter to one's ears then the mention of one's name. Hence it is strongly recommended you personalize the email.
Let us say you are a Yoga studio, mailing prospects on the new yoga routines you have developed. Writing "Hey Ben" is far more personal than saying "Dear Subscriber". In fact, saying "Hey Ben" may be equivalent to offering a one-to-one session – it is that effective.
Emails with personalized subject lines are 26% more likely to be opened. Also, 74% of marketers say targeted personalization increases customer engagement. E.g. say "Hey Mandy, can this get any better?" or "Wow Jerome! Here's your…"
3. Make it conversational in a unique way
It could be dramatically conversational, like Cathy Stucker of Blogger Linkup did with this email. It was not only a very unusual style but also very conversational. It made the subject-line a part of an ongoing conversation, and you would absolutely not move away from an ongoing conversation, right?

The powerful use of "?" brings us to the next topic..
4. Pose strong questions
Our lives are all about responding to questions and make choices. Questions are the starting points of all inventions, discoveries and the infinite ocean of knowledge.
No wonder human minds are fascinated by questions. In marketing too, it attracts readers into engagement. So feel free to use them in your subject lines.
There have been some historic, timeless ad campaigns that used questions powerfully. Here are two enduring examples.
Where's the beef? (Wendy's 1984; YouTube screenshot below). This one used the simple question to stress how Wendy's hamburgers were richer in beef. This simple question has become so powerful that today it is the catchphrase of "questioning the substance of an idea, event or product."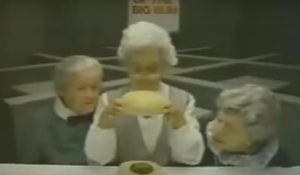 This is your brain. This is your brain on drugs. Any questions? (Partnership for a drug-free America). The 1987 ad (screenshot below) used powerful imagery to show the damage drugs were doing to the human brain.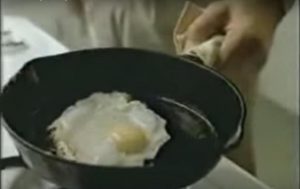 In the context of subject lines, Neil Patel uses it very effectively; he raises an important question and offers to explain it – all in the single subject-line.

5. Helping is the new selling
Of course, businesses need to sell if they must survive. However, the age of the hard-boiled salesman is gone. The sales professional of today is more of a problem-solver than a sales guy.
That's why you see even corporates repositioning themselves as solution providers (e.g. IBM's tagline: Solutions for a small planet).
There lies a wonderful opportunity in email marketing to provide that helping hand, that elusive solution, that assistance to the reader which will hook her attention and ultimately lead to conversion.
It could be something like
8 uses of the cardboard box you were planning to throw away
Looking for some great cheese? Here's a list of some great stores…
I almost threw away the plastic cups, before Shaun put them to great use…
It's important that your emails don't face serious deliverability issues, otherwise your marketing campaign will fail. It is, therefore, important that you verify email list and remove all undeliverable addresses.
6. Never forget Split testing (aka A/B testing)
Your headlines shouldn't be finalized because they 'sound good'; you need to backup your choices by solid data.
What could be better than testing it and using the results? Shortlist two headlines and put them to test (Hubspot has a nice post on A/B Test checklist).
Remember, A/B Testing needs to be done with care, with a proper understanding of the science of surveys and statistics.
Consider a situation like this: your company tests two identical products on potential users. The database of users is 13,082-big, while 863 users actually participated in the test. At the end, you got conclusive results from 79 users only. What do you do?
It would be dangerous to draw conclusions unless you knew whether these 79 were truly representative of the overall database.
Sometimes, A/B testing may provide clear-cut answers, but in other times, it will come up with weird, unclear results. It is best to dissect the results before putting them to practice.
7. Show clear benefits
The GMAT is the test you need to write to get into the graduate schools across the USA and Europe. The highest score in GMAT is 800. Hundreds of thousands aspirants write this test every year.
GMAT Club, a coaching and sharing hub, recently used a simple and a very direct subject line:
760 in 2 months – Success story by an eGMATer.
It comes to the point straightaway. Shows the benefits directly. You're respecting the reader by not wasting her time.
You show
measureable benefits (a score of "760"),

within a defined time frame ("2 months"),

Using positive words ("Success"),

along with testimonials ("by an eGMATer").
And it has a hint of "This is how it needs to be done." and there's a subtle hint of what action you'll need to take next.
8. Use humor, but …
Humor is difficult anywhere. But subject-lines pose a further challenge: subject lines are short.
That didn't stop Groupon to come up with something amazing:
"Best of Groupon: The Deals That Make Us Proud (Unlike Our Nephew Steve)"
Maybelline used it extremely well in its advertising. It stresses the natural beauty by simply saying Maybe it's Photoshop.
The record-breaking game Candy Crush took it slightly close to the edge when,  in an ad, it said. The game version of pure cocaine.
Humor lets your brand stand out, makes it more humane.
Local cultures, language and religious or political beliefs heavily influence the effectiveness of humor. What works in one situation may not work in the other.  
This post doesn't cover everything you need to know about Subject Lines, but it does cover most of the major issues.
Wish you great luck in your next email campaign!
* * *