Once you hit 'Send ' it's not possible to correct any errors in an email, so a detailed email campaign pre-send checklist is your best bet. 
But to understand the importance of an email campaign checklist, let's first look at the power of email marketing and communication.
Almost four billion people in the world have internet access, which means that they are likely to send and receive emails and use their mobile to access the internet. 
Clearly these statistics show that email provides the possibility of reaching a high proportion of the global population.
Getting information into inboxes is also a quick, effective and low-cost way of conducting mass marketing or communications.
Email campaigns are estimated to stimulate $38 of revenue for every $1 spent. That's an eye-popping ROI.
As further evidence of their value, email campaigns are estimated to be 40 times more successful than social media sites when it comes to converting customers. 
Why is an email campaign checklist necessary?
As it is such a powerful communications tool, email marketing should be easy and straightforward, right? No, it isn't, as there are two major challenges that can undermine all of this value.
Firstly, when sending an email for marketing or information purposes, you need to ensure you are working within current data legislation.
The second challenge is a lot more complex. It involves finding answers to the question "why do some email communications work better than others?"
It's surprising how many organisations still struggle to gain measurable results from emails. In fact, some companies report that email projects chiefly bring crippling amounts of post-campaign admin work to deal with bounce backs and "unsubscribes".
The difference comes down to preparation. You need to create an email campaign checklist that puts you in the best possible position to benefit from a measurably positive result.
Given below is an email campaign pre-send checklist infographic that summarizes this blog: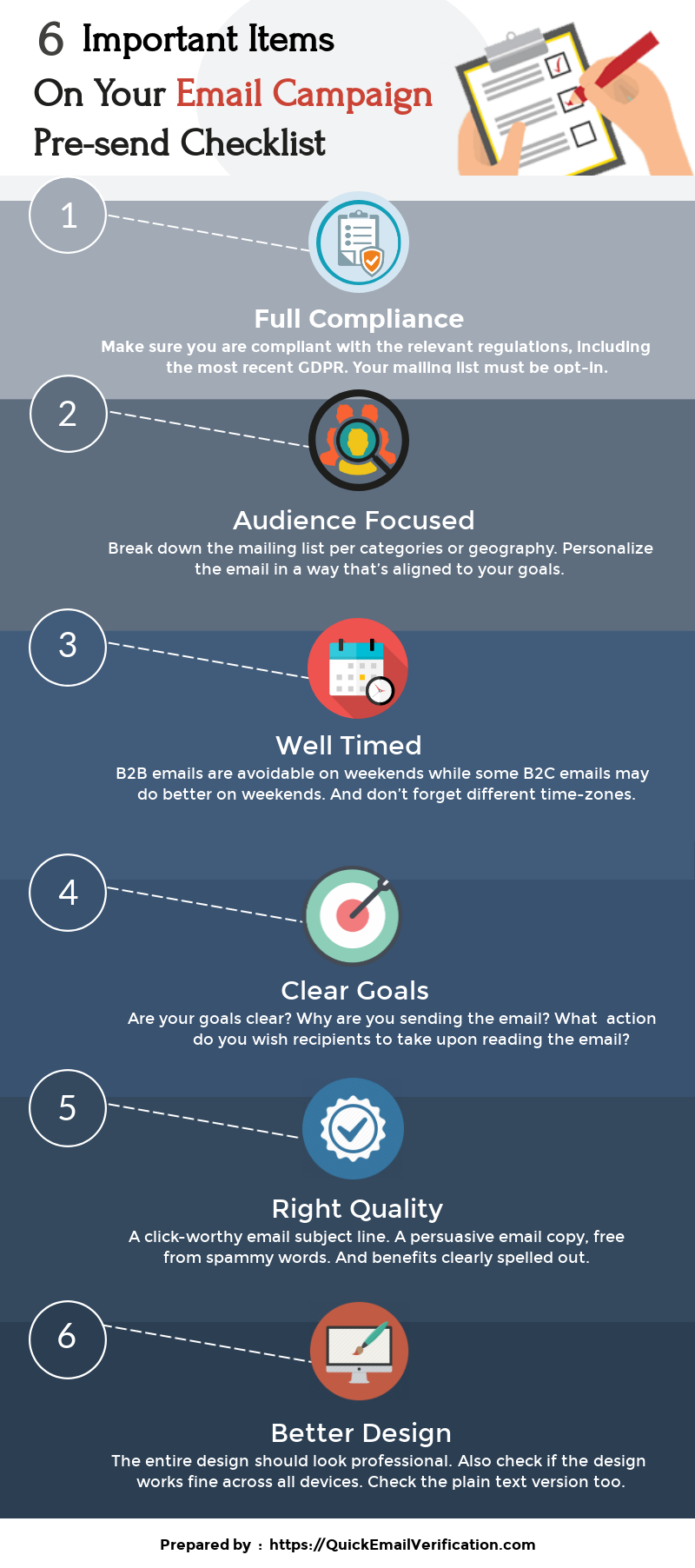 Here is the complete email campaign pre-send checklist, broken down into 6 important items:
1. Top of your email checklist: Is it compliant?
Global data laws have a significant impact on some aspects of email. Most recently, the EU General Data Protection Regulation (GDPR) made organisations more responsible for taking privacy and security measures.
So, the first item on your email campaign checklist should be to ensure that you are operating within the most up to date guidelines.
These are vital to observe but don't need to be a major hurdle. There are a number of ways to create qualified databases of leads, gathered and stored in a compliant manner.
2. Next, who are you talking to and email verification
One of the most common errors in creating effective email campaigns is paying inadequate attention to your targets.
Have you built a database of relevant leads and contacts? Have you removed spam traps from your mailing lists?
This is a particularly important item for an email marketing checklist, as you want to be able to measure response rates efficiently; randomly sending out generic emails to leads rarely has the desired effect.
You need to break down your database in a way that makes sense when it comes to meeting your business goals. That can be based on categories of customer, a geographical breakdown or people with specific job roles, such as finance director, for example.
It could be that you need a series of "personalised" emails that create an individual reaction in each sub-group of targets. "Did you know that our solicitors practice in Manchester …..London …..Birmingham? Etc".
With usable fields created within your database – to reflect your market segmentation – and a series of individual emails appropriate for each, the next step is to use an email verification service. This will ensure that the database is accurate and you're not sending emails to invalid addresses, fake accounts or the wrong people. But more on that later.
3. Email sending checklist should focus on timing
Have you set up your systems to send your email out at the optimum time, to increase the open rates and responses?
This could vary from sector to sector, and between different target audiences. For example, consumers may be more open to communications about package holidays on a leisurely Sunday afternoon, when they have to go back to work on Monday.
But sending a business-orientated email out on a Sunday afternoon is unlikely to find favour with many contacts. When the recipients return to the office on Monday, your communication will be buried beneath a mountain of emails received overnight.
Consider your optimum time point carefully and schedule emails accordingly.
As part of your email campaign checklist, remember to consider different time zones for international email campaigns too. If you send an email to contacts in the UK and USA at the same time, it might be 10am for British recipients, but some Americans will receive theirs at 2am.
4. Include purpose and goals in your email checklist
The next item on your checklist is to consider the purpose of the email.
Sending too many emails to your targets – or mailing boring or useless ones – can be very counterproductive. Your unsubscribe rates may go through the roof and your open rates will plummet.
Make sure that you really have something to say, and a clear business goal for this email. Does it add value, offer a compelling sales pitch or provide key information? Does it link to your social media campaigns or a product promotion? What results are you setting out to achieve?
Based on this sort of consideration, you need to ensure your email includes a clear call to action. In seconds, the reader needs to know your purpose and how to act. Is it about registration, buying a product, downloading important information, visiting your website for added value or some other important prompt?
5. Well drafted content goes high on email checklist
Having planned a clear purpose and measurable goals, the next step in your email campaign checklist is to review the content thoroughly.
Start at the beginning. Is your email subject line "click-worthy"? Have you put something in the title that speaks specifically to your target audience and creates a compelling reason to open the communication? Is your preview text effective too?
Is the rest of the wording concise and clear? Is your email copy persuasive enough?
Email campaigns are rarely the right place for lengthy product descriptions or company history. A link to your website can lead to that sort of detail.
Attention spans are shorter than ever these days. Successful email campaigns rely on easy to scan content that gives the reader an instant answer to the question "what's in it for me?"
Use spam filter tests on your content too, to make sure that you haven't used words and phrases likely to see your communication barred from many inboxes. The list is getting longer by the month, as spam filters become more sophisticated. Common everyday words and phrases, such as "affordable", "discount", "best price" and "full refund" are now among the ones you should avoid.
It's worth reminding you that your email campaign checklist must include a thorough check of your grammar and spelling. A second pair of eyes can spot any "gremlins" that the author of the original email missed.
Lastly, have you included a properly worded "unsubscribe" link at the end, as dictated by data laws?
6. Better by design; add creativity to your email checklist
Your email campaign checklist needs to include reviewing your layout and content with a critical eye. Test your email to make sure the version that's received looks professional and works effectively.
This includes making sure your email layout works across desktop, mobile and webmail applications.
In formatting your design, make sure that you don't inadvertently break any links in the content.
Your design should include a prominent, appealing link that supports the response you want – such as "Reply To".
When reviewing your design as part of your email campaign checklist, make sure your images work. If there is a chance they won't display in some formats, make sure you have included appropriate alt text to show what the gaps represent.
Is the plain text version of your email also optimised?
Lastly, when reviewing the design of your email, make sure that your analytics code is working so you can measure the response rate effectively.
Reusing old databases and email verification services
Once you've created a segmented database to send emails to, you can regularly send e-newsletters, offer news and other marketing material or information – as long as you are compliant with legislation.
Having already secured opt-in, sending out regular emails to existing contacts makes sense as it's quick, easy and low cost.
If you're using a long-standing list of contacts, make sure you've supplied them with opt-out (unsubscribe) information as mentioned before, and a clear reference to your updated privacy and security policies.
When it comes to regular communications, you might want to add something else to your email campaign checklist: a reliable email verification service.
Blindly re-using existing databases and lists of contacts could lead to problems, including you being identified as a spammer or sending the information to the wrong person.
Regularly checking the validity of your emails also avoids you being labelled as a nuisance due to 'bounce backs'. A better list hygiene has better open rates too. In fact, it's a must before you send emails to old lists.
Other benefits for email verification services
An expert email verification service is also vital if your database is large, complex or has evolved over a long period of time.
Many organisations have more than one person inputting data on customer contacts and sales leads, for example. Human error or inconsistent use of the data entry fields is all too common.
The results from an email campaign using a diverse database built by multiple authors can prove unfruitful, and it's hard to track where it went wrong.
Making an email verification service an important item on your email campaign checklist can bring a substantially higher success rate.